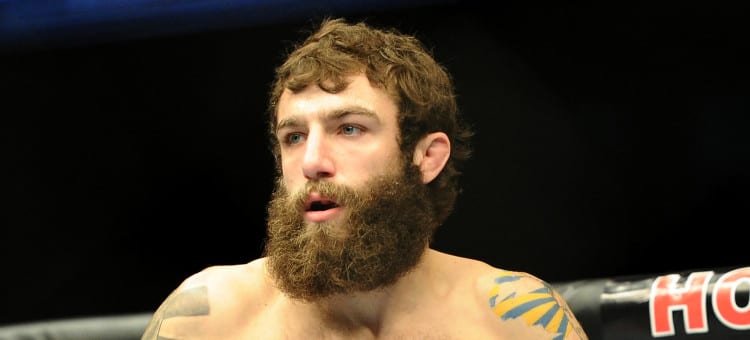 The fallout from UFC Oklahoma continues to be felt. Michael Chiesa, who was adjudged by referee Mario Yamasaki as having submitted to a first round rear naked choke applied by Kevin Lee in the main event, plans to appeal the loss to Oklahoma State Athletic Commission.
With around 30 seconds remaining in the first round of their fight, Lee applied a rear naked choke to Chiesa which appeared to have the fighter in trouble. Moments later, Yamasaki called a halt to the bout — a decision which Chiesa protested immediately.
The post-fight replays appeared to support Chiesa's claim that he didn't tap, verbally or physically, and nor did he lose consciousness.
"The second I saw him coming in to break it up, I instantly knew," Chiesa said post-fight of referee Mario Yamasaki. "I mean, the guy has a reputation for poor officiating. I'm not disappointed in myself for how I reacted, like a poor sport. But not only did you rob me of an opportunity, you robbed the fans of a great main event, you robbed Kevin. Kevin got a win over me and there's not many people in the world that have done that, but now it's really not a win. It's just surrounded in controversy. Everybody knows.
"Dude, I've fought the best black belts in my division. Jim Miller, Joe Lauzon, Beneil Dariush; all these guys have taken my back in the first round. I always get out and I always win. You robbed me.
"So I think it's only right that me and my team, we go back, we go to the commission, we do what we can to get this overturned, and I'm going to look to get a rematch. I'll fight in Detroit, I'll fight in December. I'll fight him right now. We're running it back, there's no way we're not. I'm not going to have this opportunity robbed from me like this."
Whether or not the UFC decide to roll back this particular fight remains to be seen, though Dana White was a vocal supporter of Chiesa on social media. Lee, meanwhile, seems more interested in pressing on with his career and has been vocally campaigning for a bout with Khabib Nurmagomedov, or perhaps even Tony Ferguson given their verbal scuffle on Fox Sports.
You get the feeling, though, that neither of these potential fights on Lee's menu would be satisfactory for Michael Chiesa.
Comments
comments