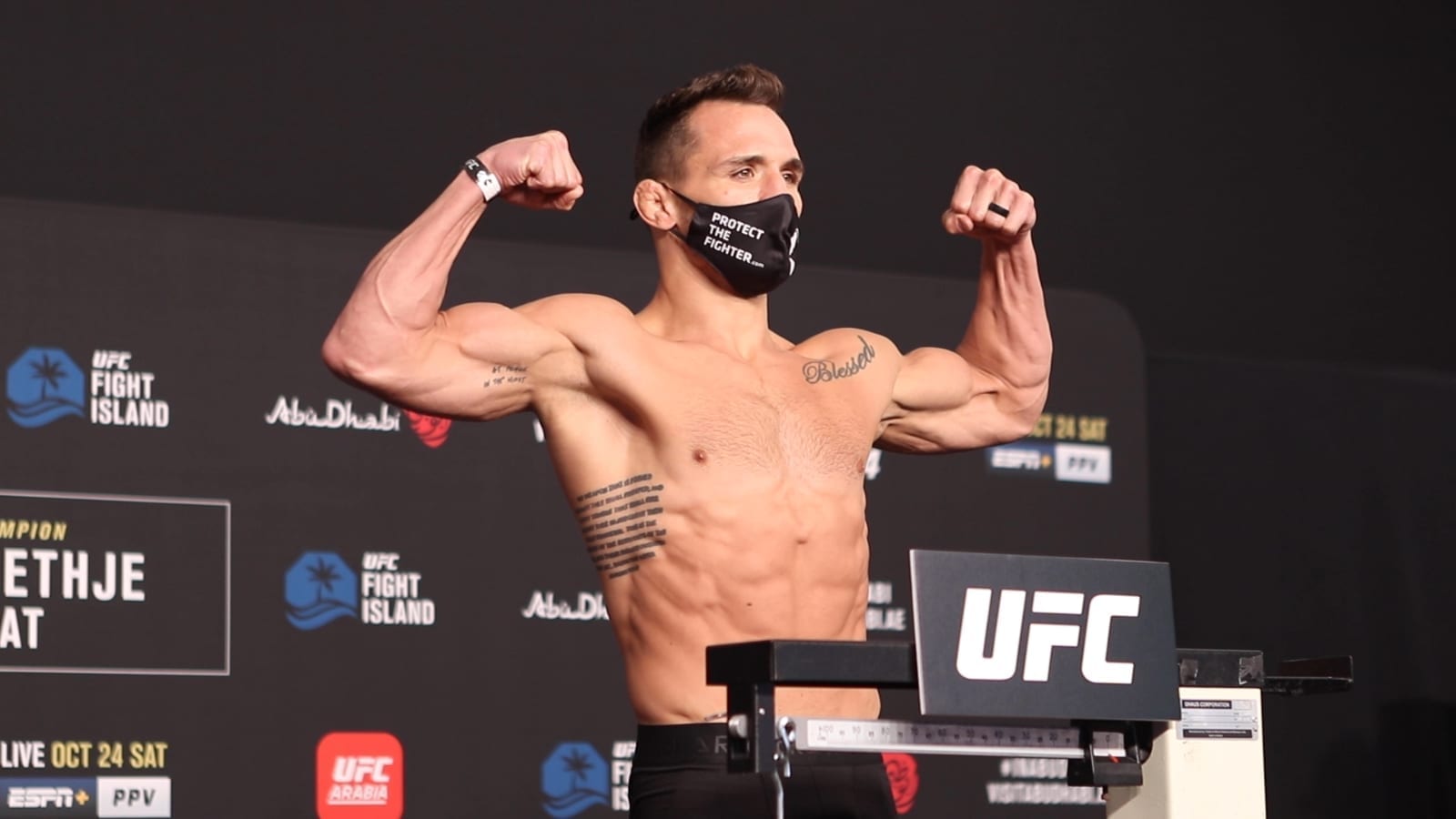 Michael Chandler believes Conor McGregor's idea of a "McGregor Belt" is the sort of fun that could be indulged.
The Irishman took to his social media recently to share an old video of himself demanding the UFC create a belt for fighters who'd rather battle McGregor than for UFC gold — a clip particularly relevant after Dustin Poirier elected to do just that. While McGregor's request might not end up taking place, Chandler says he'd love an opportunity to fight for McGregor gold.
"I love it, man," Chandler said, speaking with Helen Yee. "It's Conor being Conor. Listen, you can say what you want about Conor but the dude's the biggest combat sports icon on the planet. Not just right now but he has been for a while and he will be for the foreseeable future. I don't think it is going to happen but I think it's kind of a cool idea and I love the prospect of him beating Dustin Poirier and me putting my belt on the line, November or December, and him putting the Conor McGregor belt on the line in November or December. I'd love a patek rare belt sitting on my mantle to add to my collection. I want to share the octagon with Conor McGregor sooner or later, eventually before I retire. So we'll see if it happens after I beat Charles Oliveira. How many fights it will take, we'll see."
McGregor and Poirier are set to rematch in July in a fight that will likely see the winner move on to meet the new lightweight champion of Chandler or Charles Oliveira. In Chandler's mind, it's likely he and McGregor move forward in the unofficial tournament.
"I think Conor is notorious, for lack of a better word, for making really great adjustments, tweaks to his game plan, tweaks to his approach to the game," Chandler said. "There's not many more bright minds in the sport than Conor McGregor. I think he's got some of the highest fight I.Q. in the lightweight division for sure and there's just a couple little tweaks that he needs to make to his game that he goes out there and he beats Poirier.
"The other thing about Poirier, Poirier had nothing to lose in the last fight. He had nothing to lose. Now he's got kind of something to lose because he had the opportunity to fight me or Charles for the title and he said no, he wanted to fight Conor. So you pass up on a title fight to fight Conor, there's a lot of pressure that goes along with making that decision. So we'll see how it plays out but I think Conor makes some adjustments and at least looks a lot better in this next fight. I'm not saying he's gonna get the win but he's in a better position now that he was back in January when they fought."
Comments
comments