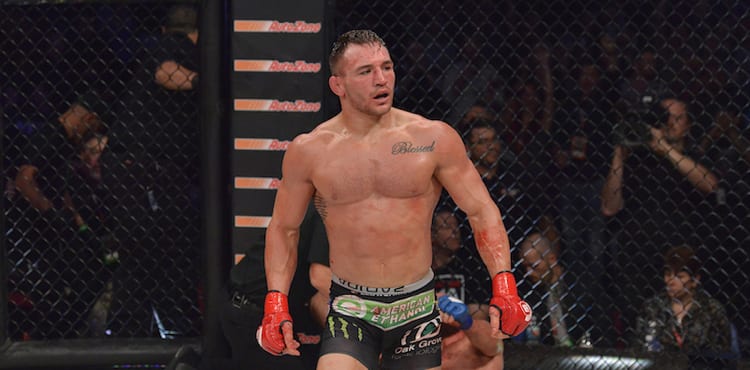 If there was anyone out there who was somehow still not convinced as to Michael Chandler's fighting spirit, his performance last Saturday at Bellator NYC should remove any and all doubt.
Early into the first round of his 155-pound title defense against Brent Primus inside Madison Square Garden, Chandler applied weight to his left leg which promptly folded underneath him, rendering him unable to stand on it with any degree of certainty for the remainder of the bout.
Undaunted, Chandler continued his attack on Primus and even dropped the challenger midway through the round as he attempted to navigate his way through the bout on one leg. Eventually, the cageside medics determined that Chandler's injury was too severe to compete and called the bout, awarding the title to Primus.
After the fight, Chandler maintained that he would have continued the bout and was overheard on the broadcast saying to a doctor that his ankle "better be broken" in order for them to pull him from the contest.
Well, it wasn't broken.
Chandler was advised in hospital post-fight that he suffered from something called "foot drop", which affects the nerves surrounding his ankle and makes it difficult to stand.
"It pretty much shut down the whole lower part of my left leg. I wasn't able to step anymore. It's called foot drop — basically, you can't lift your foot," Chandler said to ESPN.com.
Ha… They just pulled the stool out from Michael Chandler before he went to sit down, causing him to crash to the canvas, then he gets TKOd pic.twitter.com/9cjAQp9SH1

— Fury's Fight Picks (@FurysFightPicks) June 25, 2017
Some speculation has existed since the bout that the fight was called when Chandler attempted to sit on his stool without realising that a member of the New York State Athletic Commission had moved it and instead fell to the ground, appearing to some as if he was unable to support his own weight.
"They stopped the fight because they thought I had a broken leg," Chandler said. "I looked the doctors dead in the eye and said, 'It better be broken. It better be mangled if you stop this.'
"I had my orthopedic doctor with me when we rode in the ambulance and he said, 'Michael, you're not going to want to hear this — but I can tell you right now it's not broken.'
"That's when I came to the realization this is just an unfortunate situation. The cageside doctors probably do have to stop it if I'm falling all over the place. But man, I wanted them to let me fight."
Chandler and Bellator president Scott Coker appear willing to book a rematch, with Chandler suggesting he would be ready to compete in as soon as a couple of months from now. Until then, he has some words for the man who took his belt.
"Brent Primus is a nobody and unfortunately for him, he won't even get credit for this. You understand the fear that must be inside his heart? He couldn't finish me and I was on one leg. He's taking pictures with my belt right now. He better take as many as he can, so he can remember the 30 or 60 days he was a Bellator champion."
Comments
comments