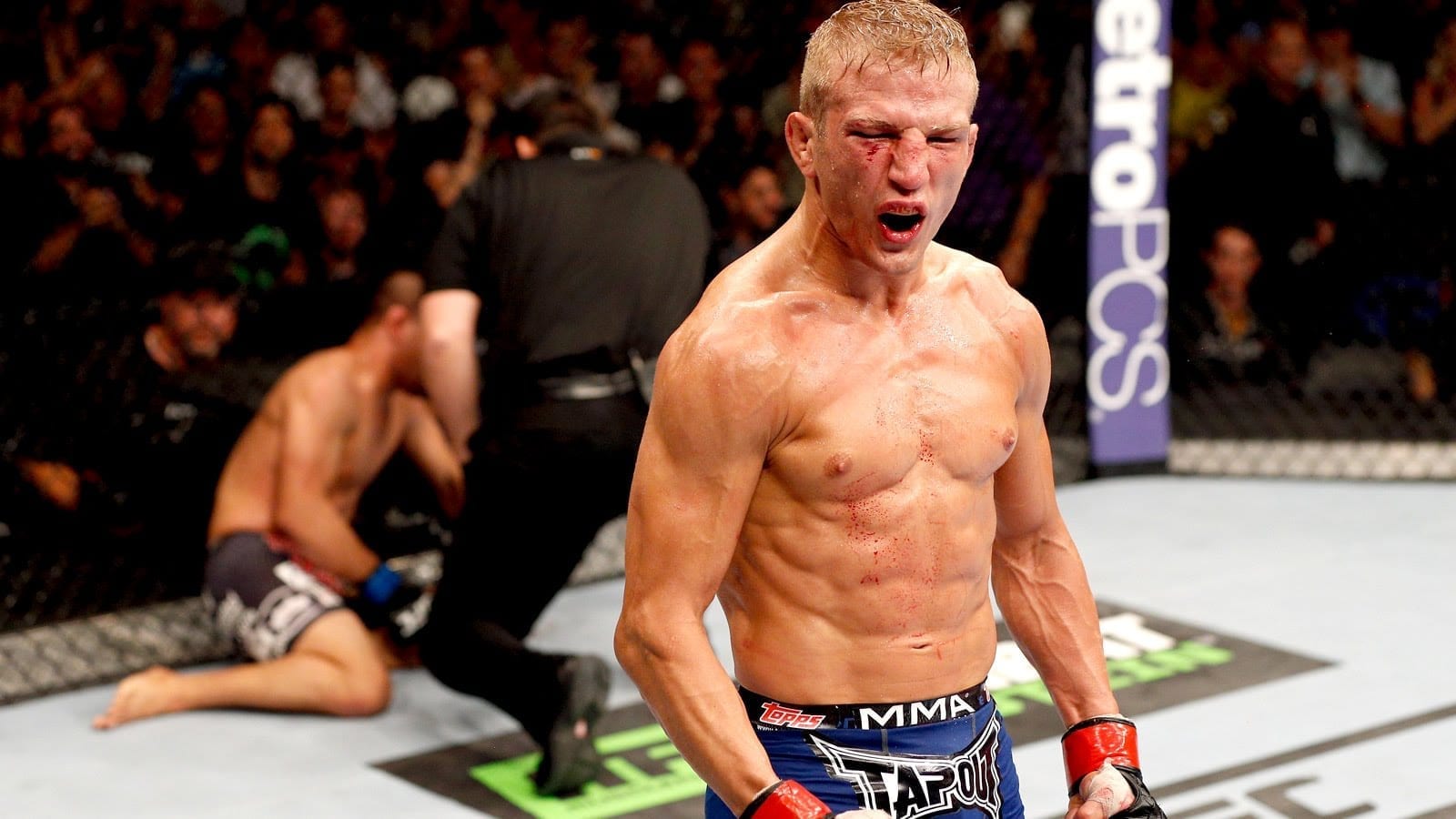 Anyone who has listened to Michael Bisping speak for more than 30 seconds will likely be fully aware of his stance of performance enhancing drugs.
Bisping regularly cites a fight he had several years ago with Vitor Belfort in which the Brazilian subsequently tested positive for PEDs, but not before landing a kick on Bisping during the fight which would ultimately cost him the use of his right eye. Dillashaw, meanwhile, returns this weekend after completing a two-year USADA ban for ingesting EPO where he will face Cory Sandhagen in a fight which could push Dillashaw back up to the business end of the rankings at 135-pounds.
"I'm against steroids in a big way," Bisping said via MMA Fighting. "If you know my story then you know I can pop this eyeball out right now. I fought a guy, Vitor Belfort, most people probably know who he is, I don't think much of him…. I fought Vitor Belfort, I got caught with a head kick, and now I can pop this eyeball out. Blind in one eye for quite some time, before I retired, and of course, I'll be blind for the rest of my life.
"What you've got to realise is that in this sport, in any combat sport, we're not trying to put a ball in a basket, we're not trying to kick a ball into the back of a net, we're trying to knock out our opponent. We're trying to inflict damage. You can dress it up however you want, you can say 'Oh, it's martial arts! It's about discipline, it's about respect!' and it is to a certain degree, but the end goal is to render your opponent unconscious.
"The end goal is to choke him out, put him to sleep in front of the entire world, or inflict so much pain on another human being that they have no choice but to tap, to give up in front of the world and give up on their hopes and dreams. So it's a very, very serious business we're choosing to take part in and anyone who chooses to take steroids, I have no respect for. I really don't."
Dillashaw, though, admitted that he had knowingly taken PEDs after the was flagged by USADA in January 2019 — and Bisping says that he respects this response.
"T.J. Dillashaw has served a two-year suspension and he came out and he owned up to it, and I've got to say, I respect that," Bisping said. "I do. Everybody knows my stance on steroids but the fact that he came out and he owned up to it, he put his hand up and said, 'Yeah, I cheated, the pressure got to me,' it's refreshing. It's refreshing to see. Most people make up some nonsense. They say it was some cream or a supplement of whatever. They come out with outlandish things to try and make up for it rather than just saying, 'Hey, I did it. You got me.' So I respect that.
"He served his two-year suspension. You may have different thoughts on that. Maybe you think he shouldn't be here, he should be banned for life, whatever that is, but that doesn't matter because the punishment was dealt, it was a two-year suspension, and he served that.
"For T.J. to come back after two years and take on this guy? There's easy fights to have," Bisping said. "Easier comeback fights have to get back into the swing of things, to let the world know you're still a contender. Way easier fights to do that with. So as I say, I do respect T.J. Dillashaw for doing that. It's gonna be a great fight this weekend and I can't wait to see it."
Comments
comments