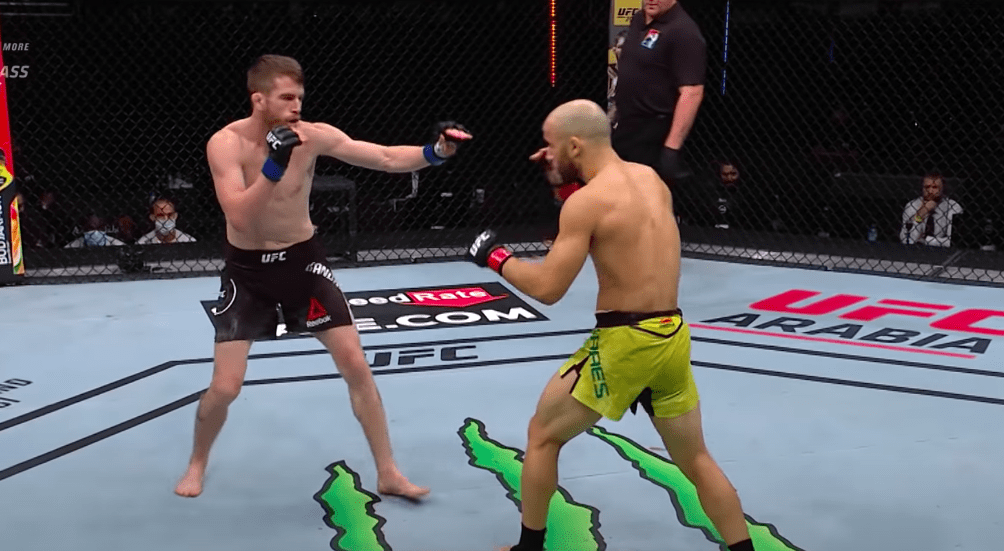 Second-ranked UFC bantamweight Cory Sandhagen, fresh off a spectacular flying knee KO win against Frankie Edgar in February, has an opportunity this weekend to cement his status as a future title contender when he welcomes T.J. Dillashaw back to the cage after a more than two-year absence from the cage — much of which was due to a ban for ingesting the banned substance EPO.
Dillashaw, now 35-years old, comes into the fight as something of an unknown quantity. The last time we saw him compete he was finished 30 seconds into the first round by then flyweight champ Henry Cejudo in what was Dillashaw's attempt to become a two-weight world champion (in addition to the bantamweight title he held at the time). Of course, the ban for EPO also raises questions as to whether or not some of his prior performances were chemically enhanced.
Sandhagen, though, will provide a stern test of Dillashaw's own title candidacy. Defeated just one in his UFC career, the 29-year old Colorado native is still showing signs of significant improvement — especially in his last fight, given that we know full well that knocking out Frankie Edgar (especially in the first round) is one of the rarest sights one could see in mixed martial arts.
Before that, Sandhagen also showed off his killer instinct in the cage with a terrific second-round finish of another former title contender in Marlon Moraes, and you can check that one out below:
–
Comments
comments