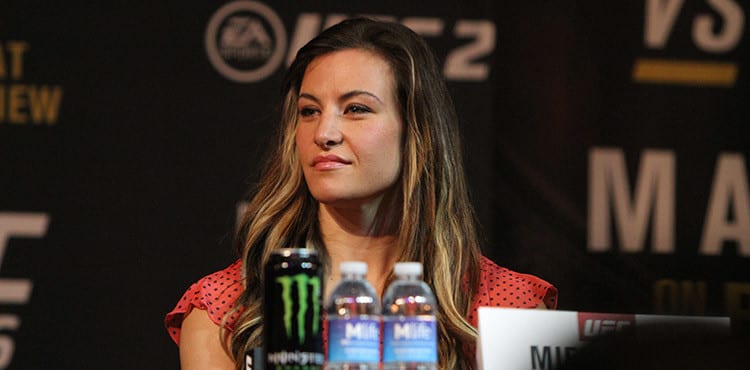 It was a long time coming but Miesha Tate found herself in the winner's circle for the first time since March 2016 in Las Vegas last weekend.
Competing for the first time since a 2016 defeat to Raquel Pennington (whom she coached in a season of 'The Ultimate Fighter'), Tate scored third round TKO win against Marion Reneau on the main card of last Saturday's event inside the UFC Apex and moments after having her hand raised, she told the media that this was a feeling that she remembers intimately.
"It was like riding a bike," she said post-fight. "I got a little emotional on the walkout, I did. It was about halfway through, I just remember like I almost felt like I was going to cry like tears of joy.
"Because I was like 'I can't believe that I'm here right now' and this fight has been a year in the making and longer if I really look at the journey before that, before I even decided I was going to come back. Now in hindsight, all of that got me to this point.
"I want to let this victory settle," Tate added. "I don't want to be in a rush for anything but of course I'm a woman on a mission here. I do want to get to the top. I think a fight by the end of the year is reasonable. I'm going to go home, I'm going to kiss my babies, I'm going to enjoy this hard earned victory and then in the next few weeks, KHI, my management, my team and everybody else we'll regroup, we'll talk to Mick [Maynard], Sean [Shelby], Dana [White] and we'll get something lined up."
Holly Holm, the fighter Tate lost her UFC bantamweight title to all those years ago, has been mentioned as a potential next opponent for Tate — but Tate says that she is just one of a list of names she is interested in throwing leather with.
"They're all fair game," Tate said. "They can all get it, respectfully. They can all come. I expected them to come out of the woodwork so that's great. I think a fight with Holly a second time would be great. There's a lot of women in the division. Name them all. I don't know where I'll come in the rankings right now but I'm never one to say I deserve this or I deserve that. I understand I've got to continue to climb but whoever's name on that list to get to the top, that's fine with me.
"I'm sure Holly and I, I have no doubt about it, before I retire her and I will fight again."
Comments
comments