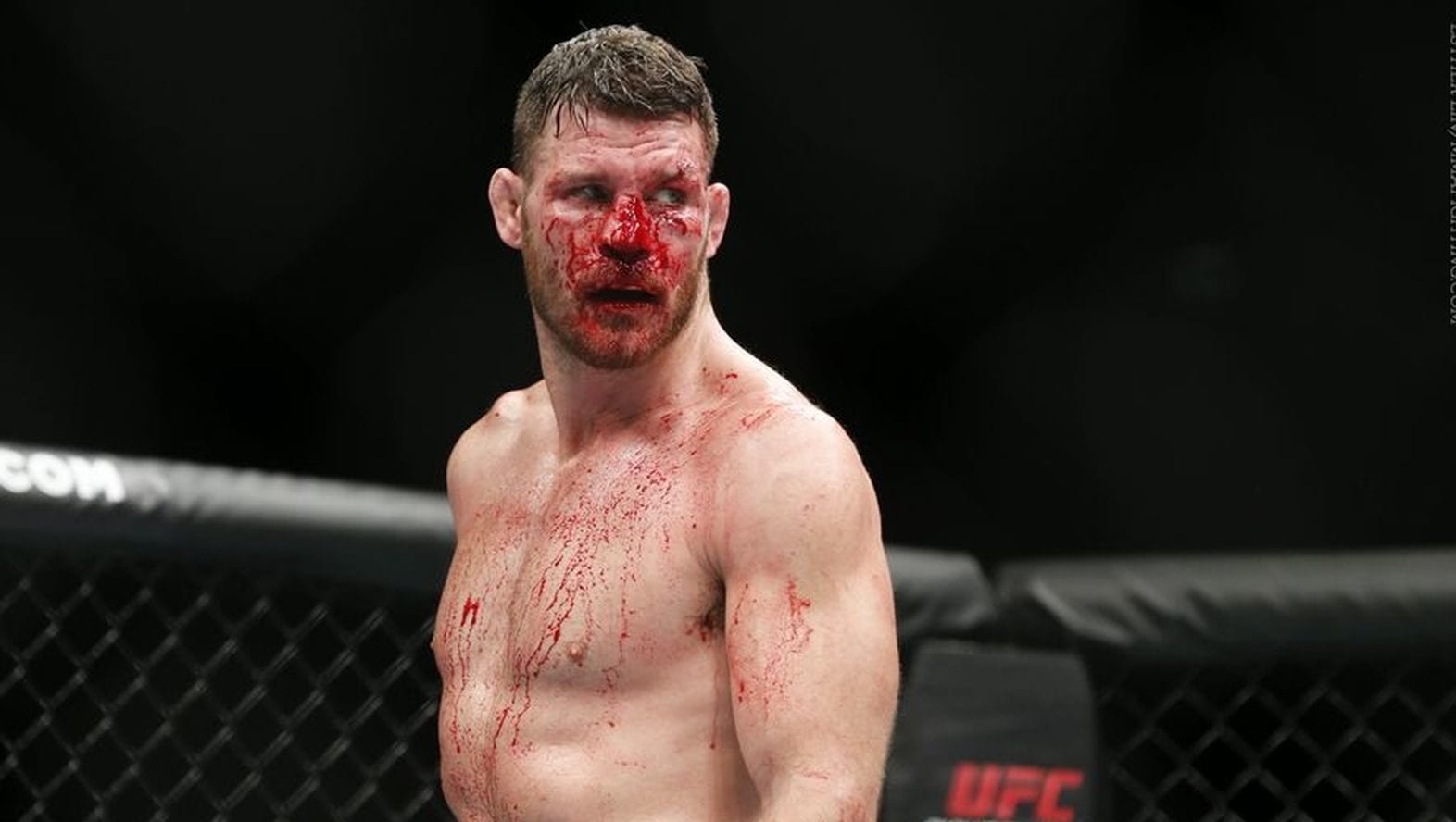 The identity of Michael Bisping's final UFC opponent is still a mystery, though the former middleweight champion has moved to distance himself from rumours linking him to a bout with Nick Diaz.
Bisping, who announced late last year that his next bout will be his last, appears no closer to signing one final bout agreement to end what will surely be one day anointed as a Hall of Fame career. The Manchester native was linked to bouts on March's London card as well as next month's maiden event in Liverpool, with Bisping even going so far as to publicly as the UFC for a spot on the latter card.
That particular request wasn't to be, however, leaving Bisping still awaiting an opponent. One potential name linked in the media this week was Nick Diaz (34) who has been cleared to resume a fight career which has stalled for a variety of reasons since a January 2015 defeat to Anderson Silva — though Bisping remains unconvinced.
Speaking on his Believe You Me podcast this week, via MMANYTT, Bisping said of a bout with the elder Diaz: "No, no. I'm not fighting Nick Diaz, it's all total bullshit. I haven't spoken to the UFC about anything, they haven't even come to me. In fact, I'm a little bit offended at the Ultimate Fighting Championship – what the fuck?
"So here's the deal with Nick Diaz," Bisping said. "A while ago I was in New York. I was doing some PR stuff for the UFC and I went to a club, actually, with a friend of mine, couple of friends and lo and behold – there was Nick Diaz.
"Great guy, we hung out, we had some drinks, we had a good time and he suggested that we should fight each other at 170. And I'm like 'I can't do 170, so we were talking about a catchweight and I said 'Nick, I'd love to, man. You've got a huge name in this sport,' you know? It was a very pleasant conversation. There was no nastiness, you know what I mean? There was no bitching. I was like 'come on dude, you have to come up, making 185 kills me' and this and that."
"But really I think we were just having fun with it more than anything. It never materialized into any actual real discussion of a fight, and of course since then he got banned or suspended – that whole thing with the weed which was ridiculous, absolutely ridiculous. Fortunately, the commission did the right thing and he's back. But I don't know were these rumors started, I don't know who started it but it's bullshit. I haven't heard a single thing. The UFC haven't reached out, my management haven't reached out – no one has said anything, no word what so ever.
"The only issue is that if I do fight, I want it at 205 and I don't think Nick would do 205. Because making 185 for the last, you know, ten years – it's been so hard. Making 185 for me is not an easy task. It's not an easy task at all. And if I'm going to fight one more time, it's going to be at light heavyweight. Or I do a catchweight, you know, maybe a 195 or whatever. But making 185 for me is too hard. So if Nick would be willing to come up then I'll do it, I'll accept. If he comes up to 195 or something like that, I'm down, I'm in – sign me up!"
Comments
comments