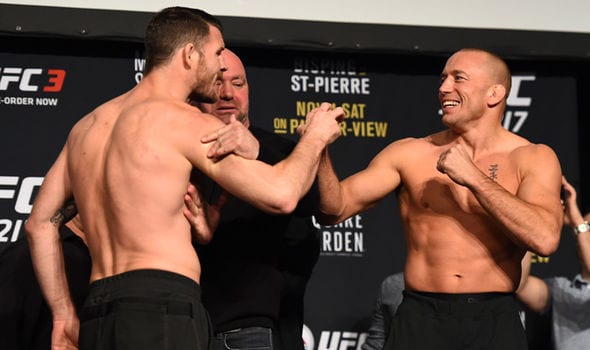 For those of us who have been around the sport of mixed martial arts for a while, there was once no bigger potential fight in the sport than a showdown between then-champions Georges St-Pierre and Anderson Silva.
Both men were utterly dominant as champions of the welterweight and middleweight divisions, with GSP's reign ended voluntarily when he vacated his title shortly after defeating Johny Hendricks in a (pretty darn close) fight, while Silva's championship run was ended in stunning fashion by Chris Weidman. But one man who faced them both, Michael Bisping, says he has an idea had the fantasy MMA matchmaking become a reality a decade or more ago, and he said that he would back Silva to win the hypothetical fight if both men were in their primes.
"In their primes, from 2009-2012, fighting at middleweight, I've got to go with Anderson Silva," Bisping said on his popular YouTube channel, as noted by MMA Junkie. "Now look, overall, I think it would have been an extremely close fight. Georges no doubt would have come in with a tremendous strategy. He would have implemented a lot of takedowns, and I think he would have a lot of control time. But as you know, 185, Anderson Silva in his prime, the knockout power, the inventiveness, the creativity that the man possessed, it was absolutely mind-blowing.
"And I think maybe somewhere around Round 3, Round 4, in a fight that Anderson Silva would have been losing, Georges would've come in for a takedown and he would've walked into a knee, an elbow, a punch, a kick, something, and I do think that Anderson Silva would've been victorious. There it is. In their primes, I think Anderson might have got the job done."
It seems that, in essence at least, Bisping would have expected the fight to go down somewhat similarly to Silva's first fight with Chael Sonnen in which he found himself dominated by the American's wrestling for the majority of the fight before hitting a home run submission late on — but instead of a submission, Bisping predicted that St-Pierre would have fallen foul of one of the Silva's wide array of stunning strikes.
Bisping defeated Silva by decision in 2016 shortly before he won the middleweight world title from Luke Rockhold, but would go on to lose the 185-pound strap to St-Pierre in the second-to-last fight of his career in Madison Square Garden in November 2017.
Comments
comments