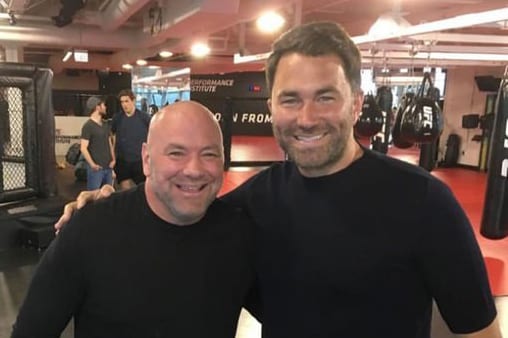 Matchroom Boxing's Eddie Hearn has backed up Dana White's suggestion that poor ticket sales were the primary reason for the cancellation of Jake Paul's scheduled boxing match with Hasim Rahman Jr. 
The YouTuber was due to take on his sixth professional boxing bout (though his first against someone who possesses boxing experience), but Paul announced in recent days that the fight had been shelved — apparently due to fears of a weight disparity between the two, something which Rahman has strenuously denied online.
But speaking at last weekend's UFC 277 post-fight presser in Dallas, Texas, Dana White took another shot at his frequent verbal sparring parter Paul and suggested that the real reason that the fight had been cancelled was down to poor ticket sales.
"I think they sold under $1million in tickets and it costs $500,000 to turn the f*cking lights on at MSG," White said to Oscar Willis of TheMacLife. "That's what I think. Not to mention hotel rooms in New York and transportation is very expensive." And speaking on an Instagram Live session, Hearn added weight to White's claims that the ticket sales had been sluggish ahead of the planned event, saying: "[White] wouldn't have known about pay-per-view sales but tickets weren't going great."
Hearn and Paul worked together earlier this year to co-promote the historic Katie Taylor vs. Amanda Serrano boxing match, which was a firm sellout in MSG — and Serrano was due to fight once more on Saturday in fight billed as a co-main event. However, it is thought that Serrano will have to arrange another fight sooner-than-later as she is due a mandatory defence of her world titles.
But as for Paul, it is unlikely that the reports of his fight not selling well will slow his ambitions in boxing — but it will be telling to see if he aims for a venue like Madison Square Garden in future amid signs that the Jake Paul boxing roadshow is slowing, if not screeching to a halt.
Comments
comments