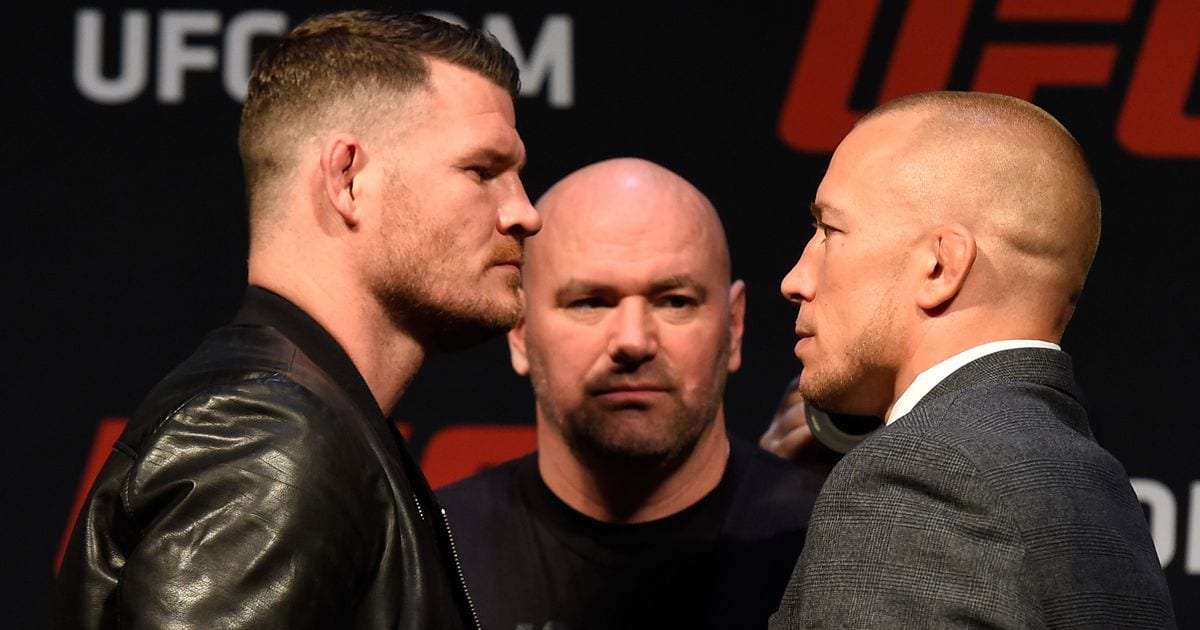 It is probably fair to say that Michael Bisping's emotions towards Georges St-Pierre have cooled since he was defeated by the Canadian in what would ultimately be GSP's final career bout.
On that November night in Madison Square Garden in 2017, St-Pierre returned from a four-year hiatus to challenge Bisping for the UFC's middleweight title — a division up from the welterweight fold in which he had spent his career.
St-Pierre claimed victory that night, submitting the Brit in the third round to claim the 185-pound title before relinquishing it just weeks later citing a stomach ailment which would prohibit his ability to defend the title in the immediate future. Bisping, meanwhile, fought again just three weeks later, losing to Kelvin Gastelum in China. He would announce his retirement soon after.
So, with the final stages of their careers to inextricably linked, Bisping used the platform of his Believe You Me podcast to praise St-Pierre's accomplishments in the sport after announcing his own retirement last week.
"I just want to say, listen, Georges St-Pierre, absolute legend of the sport," Bisping said. "Absolute legend. God bless and good luck in everything that you do from here on out. I always said that Georges St-Pierre was the person that a young fighter should model themselves after. They really should. Always strive to learn new training methods. Training smart, fight smart, professional in and out of the cage."
That said, there aren't often a great deal of pleasantries in fight promotion and Bisping certainly wasn't averse to lobbing a few insults at his opponent in the run-up to their fight, though Bisping says that this is just part and parcel of their industry.
"Of course I talked a ton of shit leading up to the fight because that's what you've got to do to make it interesting," Bipsing said. "But I had a lot of respect for GSP. That's not to say I fabricated everything. I meant what I was saying to him at the time. We're gonna fight, he thinks he can beat me? I take that personally."
Bisping also joked that the damage he inflicted on St-Pierre during their title bout was the reason for him eventually announcing his decision to step away from the sport.
"It's what I do. He was in there and he took those right hands, it wobbled his brain, he went to the hospital, had a brain scan, right before he choked me out unconscious, he was in a bad way, and he was like, 'I don't want to go through this again,'" Bisping said with a wry smile. "'I don't want to experience the hardship of a fight with Michael Bisping ever again.'"
Comments
comments