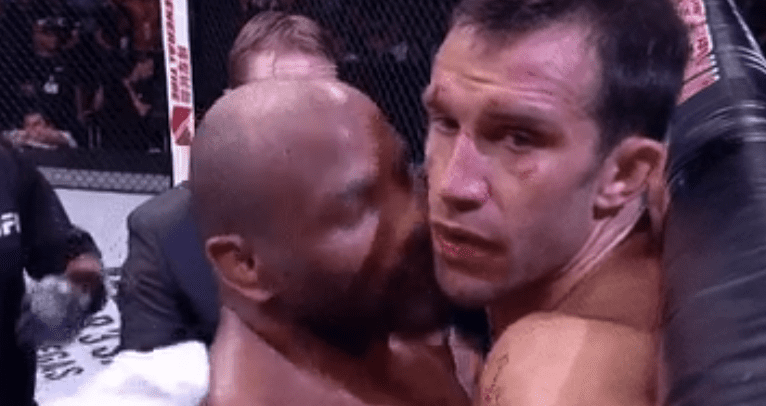 When Yoel Romero knocked Luke Rockhold unconscious at UFC 221, the Cuban immediately picked up Rockhold to show his respect and appreciation for an opponent. The issue was, Rockhold was clearly still unsure of his surroundings, and looked anything but interested in sharing pleasantries with a man who just badly hurt him.
Romero told Rockhold numerous times throughout the exchange that he loved him, and it seemed a genuine display of affection and respect, rather than an attempt to rub in the result of the contest. That being said, there was a feeling of it being somewhat inappropriate at the time, as Rockhold clearly needed some recovery time.
Certainly, former UFC middleweight champion (and rival to both Romero and Rockhold), Michael Bisping wouldn't have appreciated it if he had been in Rockhold's position.
Yoel Romero comforts Luke Rockhold with a kiss after #UFC221 pic.twitter.com/mv6IXxqQP7

— UFC on BT Sport (@btsportufc) February 11, 2018
"I don't take pleasure from seeing somebody knocked out like that, I really don't," Bisping said, speaking on his Believe You Me podcast. "He got knocked out and he just looked so devastated, absolutely crushed. Then, to make matters worse, Romero, the guy that just knocked him out, gets in his face, pins him up against the fence, has his arms over his shoulders like that so Rockhold literally can't go anywhere and he's professing his undying love for him 'I love you Luke, I love you.' I don't know what he was saying and he had his eyes shut and everything.
"I mean look at Rockhold there, he looks like he's fucking terrified, he really does. Romero has his eyes shut and he's giving him a kiss. Look at Romero there, he really looks like he's making love."
And for Bisping, it's something the officials should have been more strict with. While some made an attempt to pull Romero away, few seemed committed to the task.
"It does, it looks like he's being sexually assaulted," Bisping said, in his trademark cheeky style. "But I've got to say, in that circumstance, and I'm not trying to knock any of the officials, but really happy Valentines Day, it's really quite the couple they make there, I've got to say, they shouldn't allow that to happen in future because you got to remember, think about it.
"I know when I've been knocked out you haven't got a clue what's going on. You haven't got a fucking jar of glue where your head is at and you have to piece it back together, and then all of a sudden you have the guy who has just knocked you out with his arms around you, up against the Octagon sexually assaulting you. Hashtag 'Metoo.'
"There's nothing to stop Rockhold elbowing him in the face [or] punching him, because he might still feel the fight is going on. Who knows? I just don't think they should allow, certainly not Romero, I mean come on, it was a little bit much."
Comments
comments