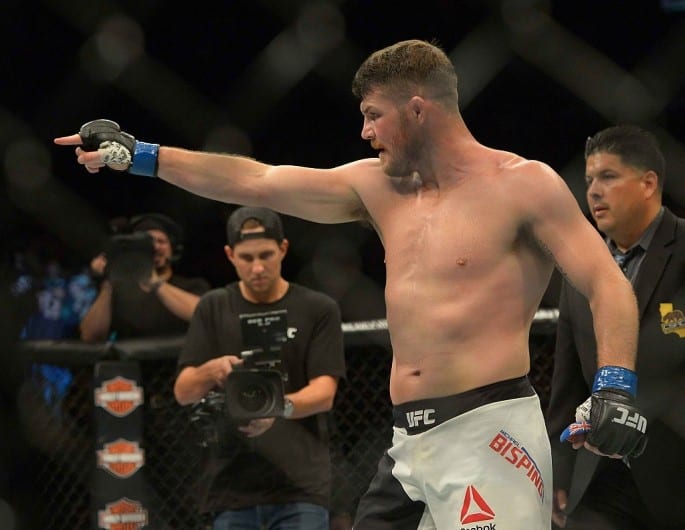 Throughout a mixed martial arts career which will surely one day lead to an induction into the UFC Hall of Fame, Michael Bisping's 'cojones' have never been in doubt.
The former Ultimate Fighter Winner realised a dream when he knocked out Luke Rockhold to claim the UFC middleweight title in June of last year. A title defense against Dan Henderson followed before a variety of injuries to him and his potential opponents meant that he would spend more than a year on the sidelines.
His return to action coincided with that of George St-Pierre and it was the Canadian legend who emerged with a victory when the two met in Madison Square Garden last month. For Bisping, losing a title is enough but doing so on the grandest stage of them all and in front of an audience watching the UFC's biggest event of the year, it was too much to take.
So, as if to erase memories of the loss, Bisping seized on the Anderson Silva's withdrawal from his upcoming bout in China (just three weeks to the day since his loss in New York) and placed himself in the main event against Kelvin Gastelum.
And we all know what happened next.
Hindsight, they say, is 20/20 but Bisping said on his Believe You Me podcast (as reported by MMAFighting) that he should have been more aware of the rigours he was putting his body through in preparation to face St-Pierre.
"That [Gastelum] fight was me trying to exorcise some inner demons and try and get back in the win column ASAP.," Bisping said. "As I said, it was a huge gamble and for many reasons it was the wrong move, but I don't regret it. If you look at the grand scheme of things . . . I can see that it was the wrong move, but at the time it felt right, so I don't regret it.
"After the GSP fight, when I agree to take the Kelvin Gastelum fight, I thought, 'Well, I just had a week off but I was in great shape, so let's get right back to it,' and I sparred everyday for a week. That's all I did for Kelvin, Southpaws, five rounds, for five days, and then I flew out to China, and I was just done. Emotionally, physically, mentally, I was just spent."
A little over a month ago, Bisping sat atop the UFC's middleweight rankings. Two defeats in a month later, he lies in 7th place but this isn't something which bothers the English veteran.
"I'm not looking to become champion again, I'm looking to finish off my career with a couple of fun fights. I went out there, I didn't get the job done. I couldn't give a f**k about rankings. I'm not trying to be the champion again. I had that, that was fun, it was a nice time in my life, I can always claim to have had that title, and now it's time to move on with my life.
"I'm totally fine with it. I'm 38 years old. I've got a wife and kids. I've got other things I want to focus on in life. Will I do one more fight? Yeah, probably. But that phase of my life now is done and I'm happy with that. . . You can't fight forever. I was a champion, no one remains a champion forever, and I'm proud of that."
Comments
comments