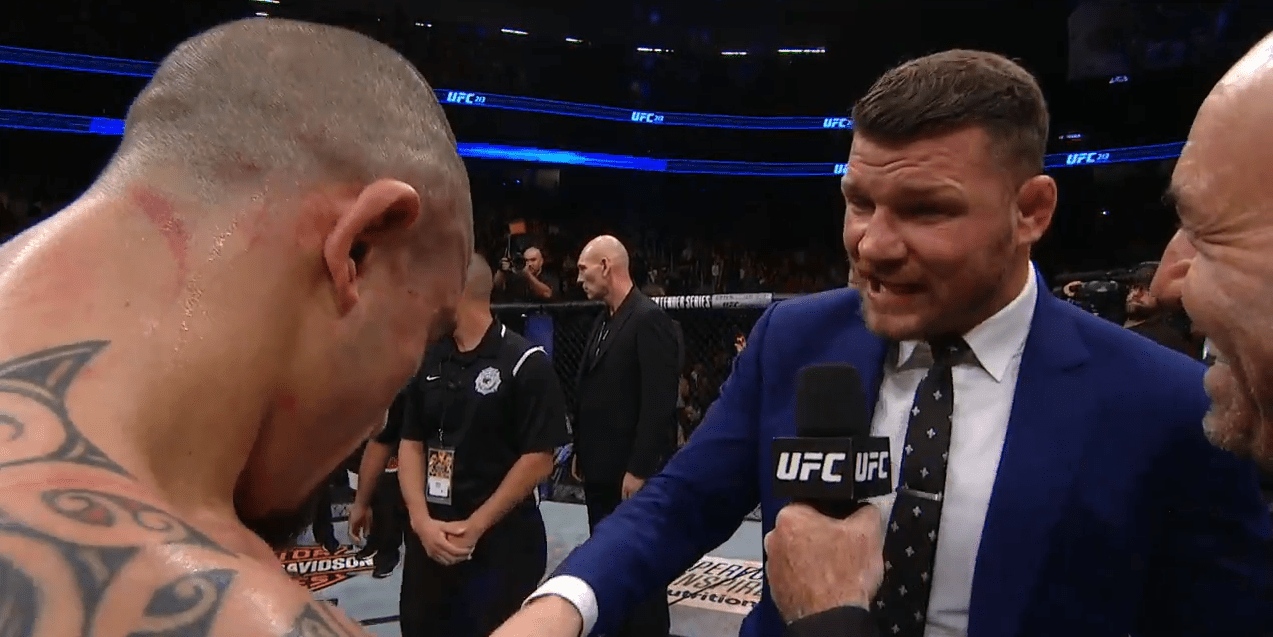 Michael Bisping was (for the latest, but likely not last time in his career) a figure of controversy on Saturday night.
After ripping up a small Cuban flag in Yoel Romero's direction, Bisping entered into the cage to meet new interim middleweight champion Robert Whittaker. After Whittaker gave the champion plenty of respect, Bisping raised eyebrows by throwing his own championship belt onto the canvas, and inviting Whittaker to take it.
Michael Bisping and Robert Whittaker had a classic exchange. Bisping goes full heel #UFC213 pic.twitter.com/mpVbZhGcYJ

— Mike Dyce (@mikedyce) July 9, 2017
Speaking after the event on the UFC on FOX desk, Bisping added some context to the slightly perplexing decision.
"I am the undisputed champion of the world," Bisping said. "This fake, this poser, is standing there with an interim belt, like he's the champion. I'm the champion. Here, take it. We're going to fight, so right now I'm still the champ. I'm not going to walk around with it on. You've got one, I've got one. Take it. May the best man win. Whoever wins the fight, you can have it, you're the champ."
The move had some fans vexed, with suggestions that the Brit was disrespecting the world title. And they weren't the only ones angered by Bisping.
As Romero left the Octagon, he and Bisping had an altercation that caused security to step in and separate them. Unsurprisingly, Bisping was unapologetic.
"He was sticking his tongue out at me, so I just reciprocated the love," Bisping said. "When I got into the cage as well I was standing in the back whilst they made the announcement. Then he walked up and he kind of faked, like he was going to attack me. So, I reacted. All hell broke loose for second."
—
Comments
comments