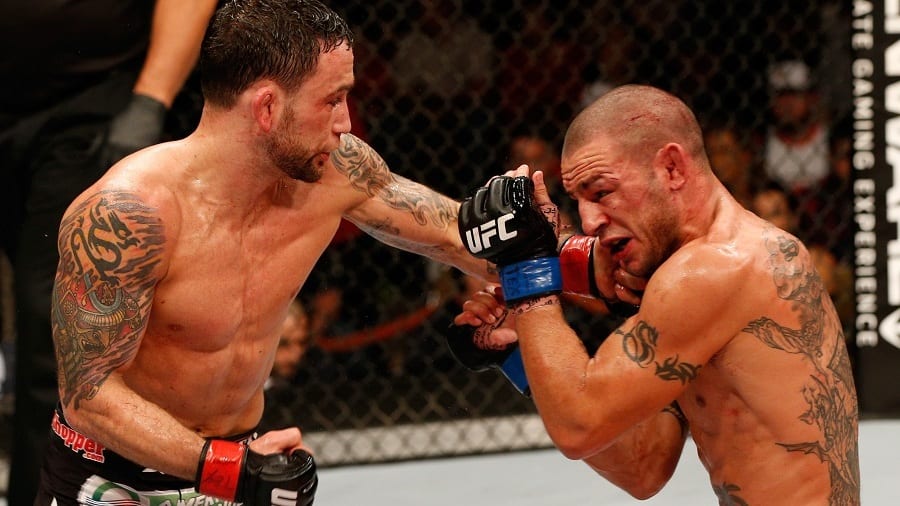 It looks very much as if Frankie Edgar will finally get the featherweight title opportunity that he has been chasing since dropping to thr 145-pound fold more than four years ago. 
Newly-crowned featherweight champion Max Holloway expects to face Edgar in his first title defence before 2017 is out, after comments over the weekend from UFC president Dana White confirmed that the promotion is looking at Edgar, the former lightweight champion, as being next in line.
Speaking to KHON2 (as reported by MMAJunkie) in Holloway's native Hawaii, White said: "We're looking at Frankie Edgar, but we don't know where. Absolutely (before the end of the year)."
It was thought by most that the next title shot would be granted to either Edgar, or Cub Swanson who is coming off four victories in succession at 145-pounds but it seems that Swanson's two most recent losses (in Nov. 2014 to Edgar and in April 2015 to Holloway) have placed him behind Edgar in the line of featherweight contenders.
Clearly unhappy with the situation, Swanson made his feelings known on Twitter.
The fans know I'm the more exciting and the more deserving

— Cub Swanson (@CubSwanson) July 10, 2017
It remains to be seen if Swanson will elect to take another bout in the meantime, or follow the sometimes risky strategy of sitting out and waiting his turn. If we can play matchmaker for a moment here, a rematch between Swanson and former champion José Aldo would seem to make perfect sense in establishing the hierarchy behind Holloway — as well as providing what would be a fascinating bout for fans.
Comments
comments