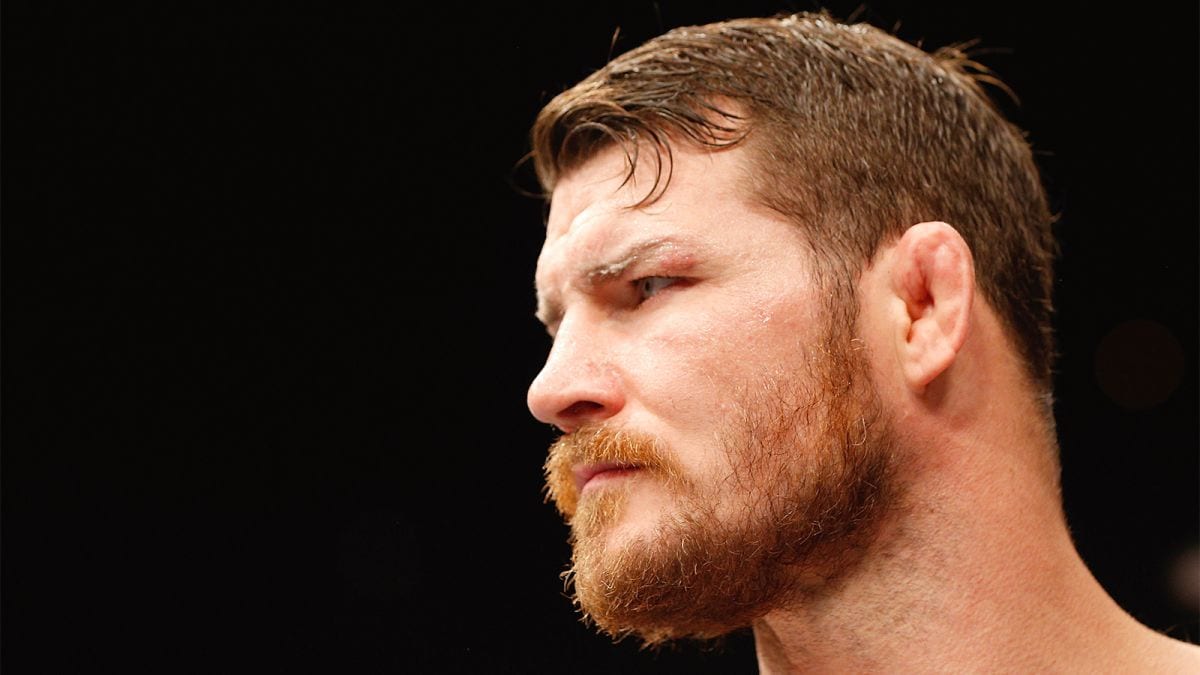 Michael Bisping has a very clear, yet simultaneously difficult, decision on his hands.
The former UFC middleweight champion, who lost two bouts in three weeks in November to Georges St-Pierre and Kelvin Gastelum, has long said that he wants his MMA swansong to come in his home country. More specifically, he has the UFC card in London on March 17th in his focus.
However, it's not that easy. Bisping will be 39 by the time that event rolls around and with that age comes questions that aren't often asked of fighters a decade younger than him. Is he past his best? Should he compete again having already broken records and won an undisputed UFC title.
What is left to prove?
Speaking on his Believe You Me podcast, as reported by MMAFighting, Bisping confirmed that UFC have offered him an opponent for the March card in London but he is currently deliberating on whether or not to accept it. He added that his friends and family have urged him to step away from the sport.
"There's a fight in the works for myself, and I've got until the end of the day to tell the UFC whether or not I'm taking it," Bisping. says. "There's an offer that's been made to me, and all fairness to the UFC, I've been kind of taking my time to give them an answer so I've got until the end of the day to give them an answer.
"I'm just debating whether or not I take the fight. For me, whether or not those people can see, I have a bad eye. I have a bad eye and my wife doesn't want me to continue fighting, and my manager doesn't want me to continue fighting. I see out of that eye but not as well as I used to, and I'm still a young man so it's kind of the reason I may hang the gloves up. My wife and manager and friends and people close to me say, 'Mike, what do you want to do that for? You've done it. You've had the belt.' I've done it. I've done what I set out to achieve.
"I kind of want to go do one last fight in England and they're like, 'So what? Five years from now or a year from now, people are gonna forget about all that and you can injure yourself even more.' but you can injure yourself in any fight, whether or not you're at 100% health or not. So that's what we're up to and I don't know."
As for who his opponent might be, Bisping remains tight-lipped but it is reasonable to assume that it won't be Vitor Belfort. The Brazilian and the Brit met once before and it was Belfort who earned the stoppage win with a headkick which detached Bisping's retina, an ailment which still gives him trouble today. Matters were made worse, for Bisping at least, when it emerged that Belfort was taking (then legal) testosterone replacement therapy, a practice which has since been outlawed in MMA.
Belfort called for the bout when his own retirement match against Uriah Hall was cancelled, though Bisping immediately poured cold water on the idea.
Nevertheless, with retirement clearly on his mind, the competitor in Michael Bisping still shines through.
"I like the fight," said Bisping of the unnamed opponent he has been offered. "It's not a case of the time or the opponent or anything like that. It's either am I going to continue fighting or am I not? I promised my wife a long time ago that I was done fighting, promised a ton of people, but I still seem to be slogging on and doing it.
"Maybe we'll have an announcement tomorrow, maybe we won't."
Comments
comments