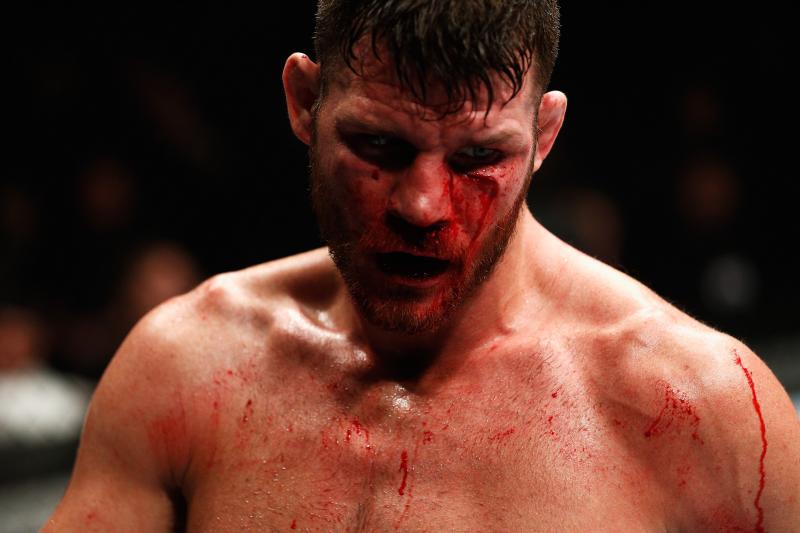 It's well known that Michael Bisping's eyesight had never really recovered from the huge kick landed by Vitor Belfort years ago.
Up until now, the details — short of the fact Bisping's eye retina looked different than it ever had — had remained kind of under wraps. Today on Joe Rogan's podcast, however, Bisping revealed just how hard it got for him to fight towards the end of his career, with UFC doctors constantly checking his ability to compete.
"I see a tiny, tiny, tiny, tiny bit," Bisping said. "So I don't really see out of it. The vision's very blurred. I mean, I was able to pass the test — to be able to be clear to fight by a commission you have to have 20/200 vision, which I was able to scrape by with the skin of my teeth. My doctor was always amazed I could see to that amount if I squinted in the right direction, and I turned [my head] and the light was just right, I could just about make out 20/200.
"But what happens is because you're seeing two different images, your brain cancels the distorted one. Depth perception's a real issue. It was an issue throughout my last few fights. As I say, I was cleared medically by the doctors. The UFC were very on top of all of that, they sent me to a number of different doctors, and as I say, I passed the tests. Just. Every time I did the doctor's would say, 'we don't recommend that you fight.' 20/200 vision is still clinically blind."
That being said, the Brit was ever stoic with his dealt hand.
"But there you go," he said. "Never slowed me down."
–
Comments
comments