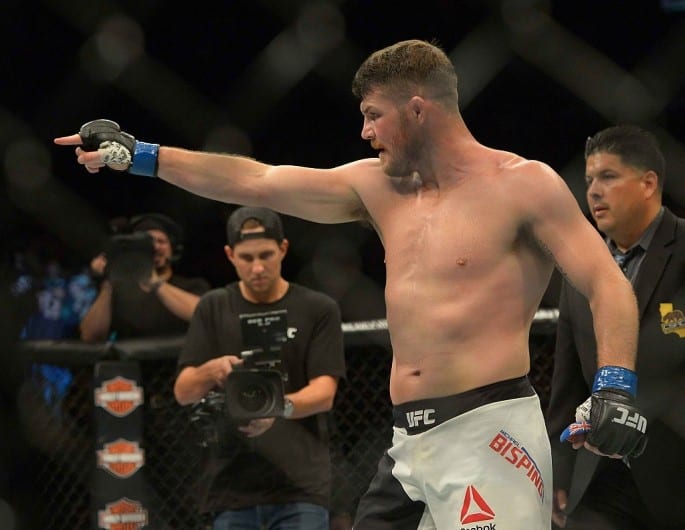 Many an eyebrow was raised in the mixed martial arts community when it was announced late on Saturday that Michael Bisping, just a week removed from his UFC 217 headliner opposite Georges St-Pierre, would replace Anderson Silva in the UFC Shanghai main event against Kelvin Gastelum.
The now former UFC middleweight champion had been assumed by most to have stepped back to lick his wounds before returning to the UFC for his swan song, potentially in the UFC's return to the United Kingdom in the first quarter of 2017. For Bisping, the fighter who owns the record for the most UFC bouts in the history of the organisation, that would have been too long a wait. So when Anderson Silva was forced to withdraw from the bout in China due to a potential USADA violation, Bisping was only too happy to throw his hat into the proverbial ring as the Brazilian's replacement.
Despite the damage that Bisping took in his third round submission to defeat to St-Pierre at UFC 217, the opportunity to get back in the cage to exorcise the demons of that defeat was too tempting an opportunity to turn down.
"I can't see how I cannot take this fight," Bisping said to FloCombat of his decision to waste no time in getting back in the cage.
"I'm serious because the homework is done. I've got no injuries, I like to fight and I've got a bad taste in my mouth from my last performance. That's what's bothering me. The UFC head of legal, Hunter Campbell, he was checking 'Are you OK, are you OK?' and physically I'm fine. Mentally, I'm very frustrated.
"So this gives me a chance to exorcize my demons and get some decent mental space back. Physically, I'm totally fine. Mentally, I'm pissed off. So for me it's almost a gift from the gods."
The match-up with Gastelum is an interesting one. Much like St-Pierre, Gastelum has competed in the welterweight division for the majority of his career but moved up to 185-pounds after a series of struggles in making the welterweight limit. This gives Bisping the opportunity to give provide another road test to the ultimately unsuccessful gameplan he used at UFC 217 — but, more-so than that, Bisping says that he needs to erase the memories of the title defeat and replace them with the feeling of victory once again.
"At the end of the day, I respect Kelvin. He's a great fighter, but it's nothing about Kelvin. I just, for me, obviously I was upset about how the fight went and I've been a bit depressed and this came up and the best way to get rid of that is to just get right back in there.
"To be honest, I don't see any negatives. I don't see any drawbacks," Bisping said. "I want to go out there and I want to get in the win column. Of course, that's not a guarantee. Kelvin's tough. It's a tough fight, but I feel I can go out there and perform better than I did last week. That's what's important to me.
"Hopefully I can go out in a couple of weeks and get back in the win column so I can sleep well at night. Plus I can stick a few more dollars in the bank account and then I'll have my final fight in London in March."
Comments
comments