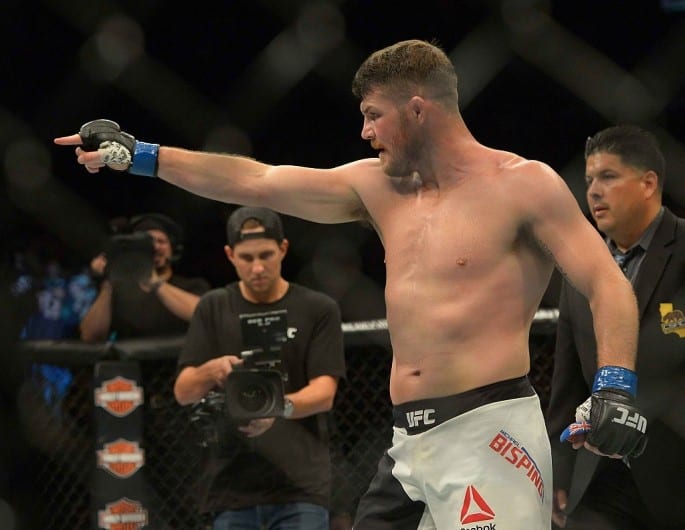 Michael Bisping has never been one to stay a silent observer. In fact, the brash Brit has long made a name for himself as one of the most opinionated (and divisive) figure in mixed martial arts.
He's also faced enough men on boosted testosterone (with feature altering results) to be able to decry the usage of performance enhancing drugs and steroids in MMA. Seeing Jon Jones' latest scandal, in which the UFC light heavyweight champion has failed his second doping test, this time for an out-and-out steroid, Bisping feels as if we could have seen the last of the man considered best in the world.
"I think it's fair to say that he's definitely has tarnished his legacy," Bisping said, speaking with USA Today. "I think he will always be remembered for the stunning performances he put on. When he first broke into the UFC he was incredible, absolutely unstoppable. Yes, outside of the Octagon, made some very, very bad decisions and unfortunately this is one that isn't going to go away for a long time."
At the moment, fans and pundits alike are waiting for Jones' 'B' sample results to return, after which the 205-pound champion will undergo his due process. Should he be found guilty, it would constitute his second infraction under the USADA code, which would likely have longterm ramifications. Even if found innocent, the damage to his already fragile reputation may be catastrophic.
For Bisping, it's a case of too many strikes to ignore.
"I think he's looking at a four year suspension," Bisping said. "And it's fair to say there's no smoke without fire. This isn't his first time. I guess we've got to see how this thing unfolds, but it's not looking good.
"I believe [he should get a lifetime ban]," Bisping continued. "I believe if you have a history of taking performance enhancing drugs I think there's no place for it. This is a vicious sport, it's not for everybody. We're not trying to put a ball into a basket, we're trying to — you can dress it up however you want — we're trying to beat our opponent either into submission or knock them out.
"Performance enhancing drugs have no place in this sport."
Comments
comments