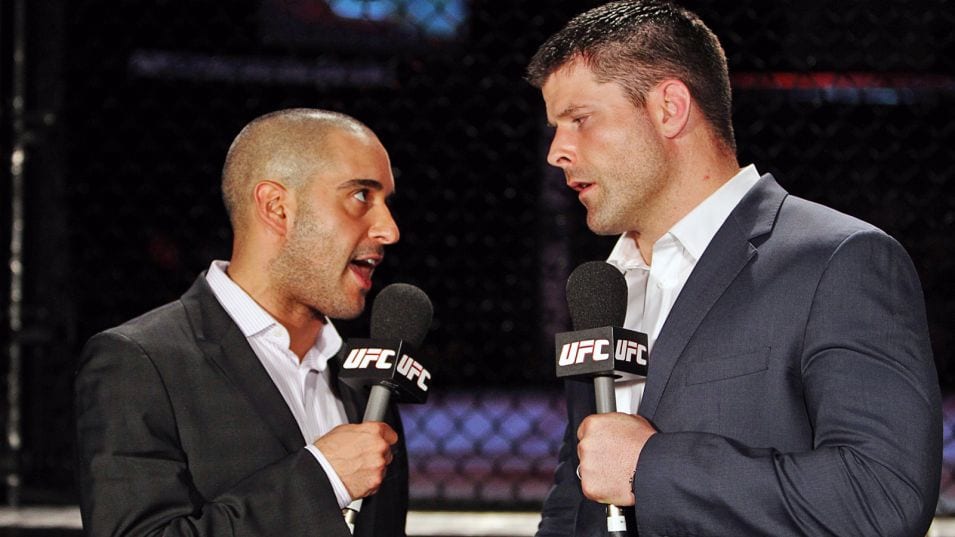 Since retiring from active MMA competition in 2013 former WEC light heavyweight champion Brian Stann has garnered a reputation as being one of the best colour commentators in the sport, which is why his recently-announced decision to walk away from the commentary booth was met by a mix of disbelief and sadness by fans of UFC programming.
In his initial announcement last month, Stann explained that he had been offered a prominent position with a "fast growing real estate firm" and that he would be returning to his studies to gain his executive MBA later this year.
This opportunity wasn't the sole reason for his decision to leave the UFC, however. As he explained to Ariel Helwani on this week's edition of The MMA Hour on MMAFighting.com, Stann said that the travel which comes hand-in-hand with the position of being part of the UFC's broadcast team was taking its toll.
"I spent the entire weekend with my kids, and I've been able to do that for several weekends in a row, which doesn't typically happen for me, and that's a big reason why this switch took place," Stann explained as transcribed by Lowkick MMA. "As you know, I love calling fights, and I loved being a sports analyst. I loved my time in college football and I loved my time calling fights in the UFC, and for a long time I thought, 'hey, this is something I'm going to do for the next 15 to 20 years.' The difficulty becomes, obviously, that you're always working the weekends. Just for a stateside fight in the country, I would leave on Thursday, I wouldn't come home until Sunday. If I was going out of the country, which I did a lot of international shows, I would leave on a Wednesday, I wouldn't get home until Monday.
"I did 26 shows last year alone, that's half the weekends. And even if I didn't work a regular job — which I do — even if I didn't work a regular job, that's a lot of time to be away from my family. And as my girls get older, I mean, I'm missing soccer games, I can't coach any of my kids' teams. Eventually I'm going to start missing semis, homecoming, proms, things of that nature if this is my chosen career path. And ultimately, in addition to the time away from family, there's just no guarantees in television, right? Things can change in the heat of the moment.
"We don't know what network the UFC is going to be on in a year-and-a-half. They don't know. They're going to go through those deals, and for guys like me, what happens? I've got three kids, and as comfortable and secure as I feel in my abilities as an analyst, there's a lot that's up in air that's kind of left to chance there. And then, really the third reason, and this would occur to me a lot — as much as I loved calling fights and I thought about my future, I'm not building anything, I'm not leading anything, and I just, I didn't want that to be my career. When I look back at what I've done with the best years of my professional life, I didn't want to just say, 'Man, I called some really great fights.' I wanted to do something a little bit more than that.
"So when [the new offer came], the opportunity was just far too good to pass up," Stann continued. "It's an incredible company, it's fast-growing, it's got a great private equity company behind it that I really respect the leadership. The CEO of the company, who I'm going to work directly for, is a very, very intelligent man with a lot of experience. He's a great leader, he's someone I'm going to learn a tremendous amount from. And there's an executive team at that company and some hard-working employees that I'm going to learn a lot from. It's an opportunity that I simply can't pass up, where I'm going to get the chance to build something in a company that's going to probably triple in size in the next two years."
Comments
comments