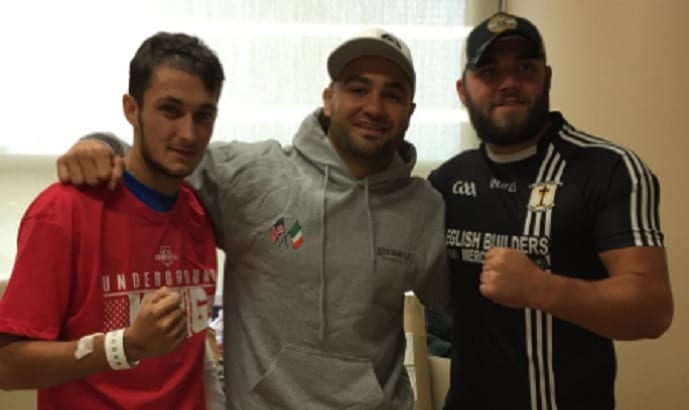 Chalk one up for Eddie Alvarez.
The former UFC lightweight champion was contacted on twitter by a fan asking him to retweet a GoFundMe campaign which was arranged to help pay the medical costs for Tyrone native Aaron Elliot who was seriously injured in a car accident in Alvarez' native Philadelphia. It's fair to say he did a little bit more than that.
Elliot had moved from the Irish county to Philadelphia earlier this year and in the process became an integral member of Kevin Barry's Gaelic Football Club in the Pennsylvanian city.
However on August 26th Elliot was struck by a car in Jenkinstown, around 30 miles outside of  Philadelphia and was found unresponsive and without a pulse by paramedics.
Despite the incident leaving him with a fractured skull, several surgeries have since stablised his condition.
When contacted a friend of Elliot's asking him to help spread the word of the fundraising campaign, Alvarez didn't just retweet the message — he insisted on visiting the Irishman in hospital.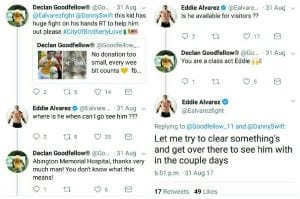 Yesterday, Alvarez made good on his word.
Finally got a chance to go see Aaron Elliot , this kids a walking miracle and testimony to pure Will and toughness #ufc #thnq #Aaronsabeast pic.twitter.com/fUPD9zAD22

— Eddie Alvarez (@Ealvarezfight) September 11, 2017
Alvarez' connections to the Irish community in Philadelphia are closer than you might think. Speaking to Fox News Latino in 2011, he announced that he was half-Irish.
"I think it's important because of how proud that Latin community is of their fighters," Alvarez said. "I'm also half Irish as well. I'm proud of both sides and they are both really well known to be fighting heritages so I tell everyone all the time they say, 'What are you'? I say I'm Irish. I'm Puerto Rican.
"I guess I was born to fight. I've got the fighting Irish, and Puerto Ricans are some of the best fighters in the world. I'm proud of who I am, but it doesn't define me as a person. I'm a whole lot more than just Spanish or Irish or whatever but definitely it's given me help."
You can visit Aaron Elliot's GoFundMe page at this link. At time of publishing the campaign has raised just under $50,000 of the $100,000 total.
Comments
comments