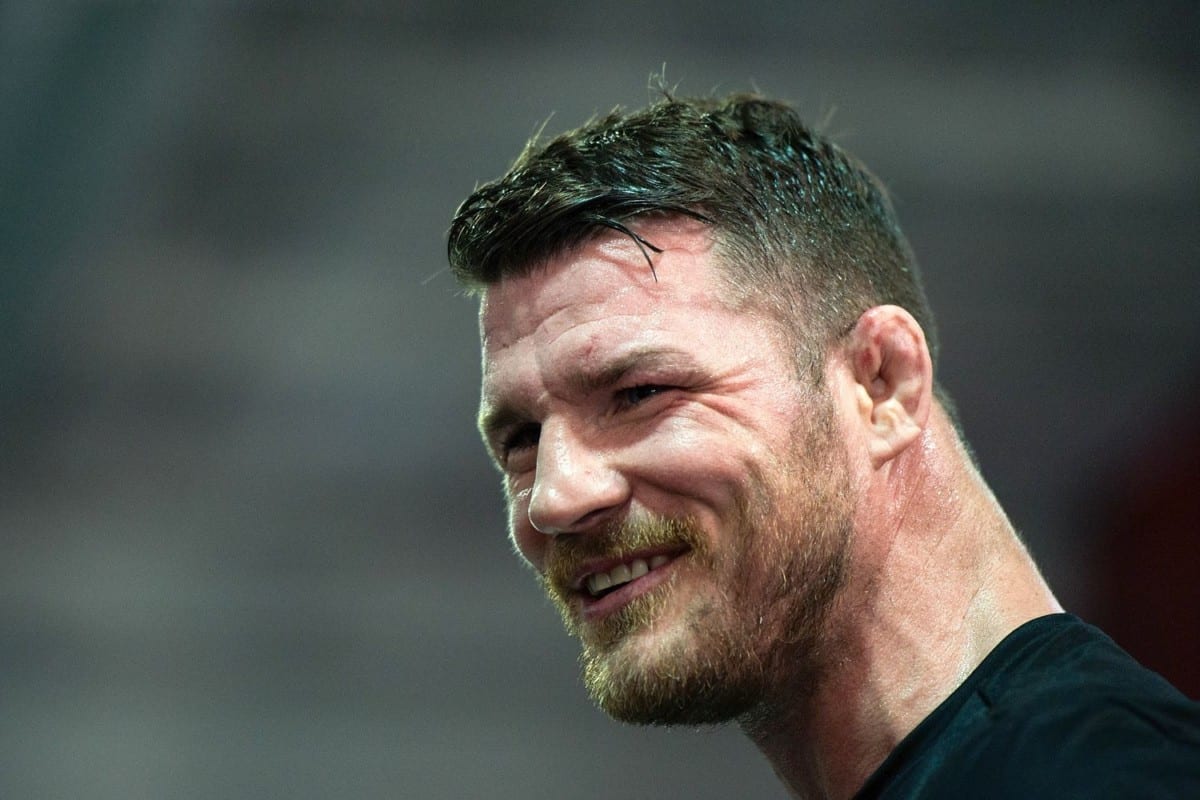 Michael Bisping's retirement fight is becoming something of a lottery.
The former middleweight champion and British MMA legend has made it clear that should he compete in the Octagon again, it'll likely be for the last time. As a popular fighter with strong support from fans, Bisping's final outing is grabbing attention, with new names being linked to him every week.
Today at a Q&A event in London, Bisping had the opportunity to throw out his thoughts on several hypothetical bouts, and who he'd enjoy fighting before calling it a day.
"There's somebody that I've knocked out before that I think I might want to knock out again, and I believe you all know who I'm talking about," Bisping said, referring to Luke Rockhold. "And this week he was saying, 'Sign the contract, Mike. Sign the contract.' Trying to make it out like I was ducking him. So I tweeted back, I'm like, 'What contract? Please present me with the contract, the location, the date, whatever it is, because you're full of shit, Luke. It doesn't exist'.
"Now, if I was presented one, that is a fight I wouldn't turn down. But that said, for my last fight, I'd rather have it be against somebody I respect. Of course over the years, I've been controversial, shall we say, but I'd rather fight somebody I respect, put my best foot forward. Not let myself down and talk shit like I always do."
While Bisping is open to meeting Rockhold — a long time rival — in his final contest, the fact he dislikes him isn't a defining factor. Another man Bisping's had several issues with, Vitor Belfort, has also been discussed, and Bisping effectively ruled out ever facing the Brazilian again.
"Vitor Belfort is the type of person, I wouldn't piss on him if he was on fire," Bisping said. "I have no respect for that guy. Honestly, I don't want to share an Octagon with him. I don't want to be associated with him whatsoever. I think he's the biggest hypocrite in the world. He's one of the biggest cheaters in the world. He's a total hypocrite. He talks about Jesus and things like that but he's not a very good person, and he is one of the most prolific cheaters in this sport. And this is a sport for men, this is about martial arts, it's about testing yourself at the highest level. It's not who's got the best doctor and who can take the best steroids. So, once again, I wouldn't piss on him if he was on fire."
Perhaps, a fan then suggested, Bisping could meet a man outside of his own weight class in Jorge Masvidal. Masvidal and Bisping have had infamous altercations where the two have gone back and forth in the past, with Masvidal stating he disliked Bisping for desecrating a Cuban flag on air. While Masvidal might be desperate to get Bisping in the cage before the Brit steps away, Bisping says Masvidal is more in the Belfort pile than the Rockhold column.
"Jorge Masvidal has been beaten by a 135-pound fighter," Bisping said. "He's lost to lightweight fighters. I don't go around looking for low-hanging fruit. He's not somebody that I like, and he sends me a lot of abuse via Instagram. He's always sending me messages, he's trying to get a fight. I'm not interested in Jorge Masvidal. In the words of Conor McGregor, who the fuck is that guy?"
And the final suggestion from the London crowd? A meeting with fellow Briton, Darren Till?
Nope, not something Bisping's interested in.
"I've never met the guy, he seems like a lovely fellow," Bisping said. "No, I don't want to fight him. Plus he's 170, I fight at 185, and I've got maybe one more fight left in me. So we'll see what happens, but Darren's going to have a great future. My Thai boxing coach Darren Morris can't say enough good things about him; he knows him from the Thai boxing world and I'm sure he's going to have a fantastic career. His last fight against Donald Cerrone was incredible, so the future's very, very bright for Darren. For me, fingers crossed I do one more fight, and I'm looking for someone that's of similar status to me. And I don't mean that detrimentally to Darren, but he's an up-and-comer and I want someone of similar status to myself.
"I want someone who's a household name in mixed martial arts. It's going to be my last fight, I want it to be a big one. I don't want everyone saying, 'Oh, he fought this up-and-comer who's a weight class below him.' As I said, that's not detrimental to Darren Till. I just said a lot of very nice things and I wish him all the best. I want a proven 185er, maybe even a light heavyweight. I'll probably go up to 205 for my next fight. Cutting weight and dieting is a bit of a pain in the ass."
Comments
comments