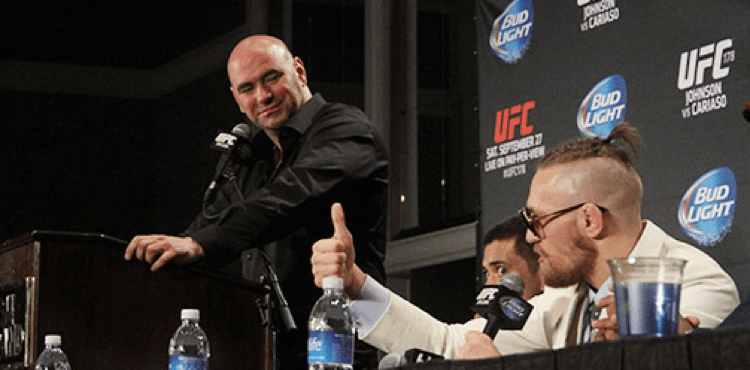 Whenever it comes to fighting, there are always the same rhetorical, unanswerable questions going around. How would so-so from today do against so-so from the past? Who would win out of this pair if they were in the same division? Which traits would you take from fighters to build the best fighter?
Well, if you've ever wondered what Dana White's answer to the last one would be, wonder no more. On the BBC MMA show, the UFC president was asked which traits he'd take from which fighters in order to make one of the best of all time. From fists to heart, White gave his responses, which are detailed below:
Fists – Chuck Liddell
"I would take the fists of Chuck Liddell. Chuck Liddell had knockout power in both hands. He never wanted to go to the ground, he just wanted to stand and knock you out."
Feet – Mirko CroCop
"I'll take Mirko Cro Cop's feet. He had a head kick that if he even grazed you, he would knock you out."
Chin – Jon Jones
"This is probably going to surprise some people but if I had to pick a chin, I would probably take Jon Jones. Jon Jones fought all the best at 205lb, which was the most dangerous weight division in the history of this sport. He fought of all the best on the way up and defended his title against the best. He was never rocked or fazed by anyone's punch, kick, knee or anything"
Brain – Conor McGregor
"I'm going to give the best fight IQ to Conor McGregor. McGregor is very, very smart when it comes to fighting – he's very good at breaking down his opponents. He basically tells you how he's going to beat them. Not only does he tell you exactly how he'll beat his opponent, he'll even pick the round sometimes."
Heart – Frankie Edgar
"There's obviously a lot of guys and girls who have fought in the UFC who have a tonne of heart, but if I had to pick one guy or girl right off the top of my head, I'd take Frankie Edgar's heart."
"He's been around for a long time. Never, ever has he fought in his own weight class. The kid should have been fighting at a much smaller weight. He was a champion at 155lb, and he's fought the absolute best in the world. I'd take his heart."
Mouth – Michael Bisping
"I think would take Michael Bisping's mouth. Michael Bisping talks so much trash. He's very smart, funny, calculated in the things that he says. I'd go with Bisping."
Certainly, all the above would make a fighter worth a watch on pay-per-view.
Comments
comments