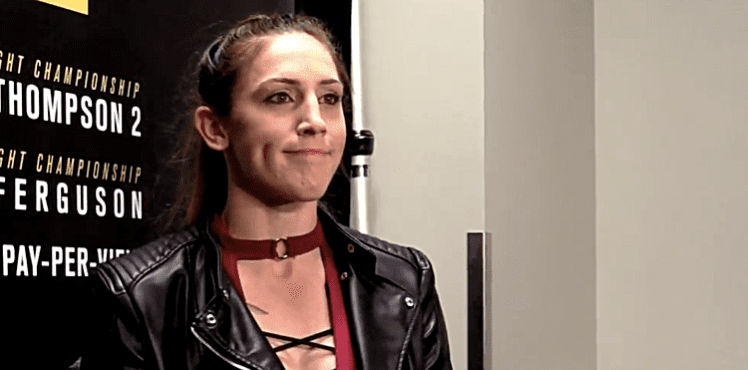 Those seasoned mixed martial arts enthusiasts reading this will no doubt remember the finish to the UFC 46 fight between Randy Couture and Vitor Belfort. 
Less than a minute into the main event bout a glancing strike by Belfort grazed the eyelid of Couture, opening up a small cut on his eyelid which would lead to the referee calling the bout after consulting the ringside doctor. The injury wasn't particularly serious but the placement was an issue. Better safe than sorry.
What's worse, Couture — who was clearly still able to fight — lost the UFC heavyweight title as a result of the fight oddity.
While the stakes weren't quite as high, last weekend's UFC 232 event in Anaheim, California, the finish in the featherweight fight between Megan Anderson and Cat Zingano was equally, if not more so, bizarre. Around a minute into the bad, a rangy left high kick from Anderson caught a retreating Zingano. Anderson's toe appeared to make direct contact with Zingano's right eye, leaving her in immediate distress. The bout was called moments later.
Zingano stood motionless against the cage, eyes clenched shut and would later tell reporters that she feared her eyeball had ruptured. Thankfully that wasn't the case but because the eyepoke was not an illegal move (fingers yes, toes no) the result is a loss on Zingano's record — and Megan Anderson appears happy to offer a rematch.
"I got, 'That's not a win, you shouldn't be proud of that.' Well that's not my decision," Anderson explains of the fan reaction to the fight to Luke Thomas on The MMA Hour.
"I threw a legal blow that happened to land in a weird spot and I got the win from that. A win is a win and if Cat wants to run it back I'm happy to give it to her, it's not a problem, but at the end of the day I have that win on my record and I put in a lot of hard work and a lot of time into that and — no matter what people on the internet say — I'm going to be proud of that performance.
"If you watched any of my fights, that combination that I threw is very common and I have landed that a lot of times and I have finished fights with that combination. So if Cat didn't have her hands up, then she didn't really do her homework very well because that's a very common combination for me to throw.
"I'd never seen anything like that. It definitely was strange," Anderson continued. "Marc Goddard is one of the best in the business and when it all happened I looked to him to see what he was going to do because the way that Cat kind of looked away, I knew something wasn't right, I knew she was hurt, I didn't know what had happened.
"I kind of turned to him and he was telling her, 'The fight's still going, you've got to fight back. Got to fight back.' And I was like, okay, I'm gonna do my job. I can't exactly just stop if he's telling me to keep going so it's unfortunate circumstances. I really feel like I wanted to showcase a lot more of what I'm capable of. But a win is a win and we're happy to finally get that win in the UFC and I'm glad that Cat's gonna be okay."
Comments
comments