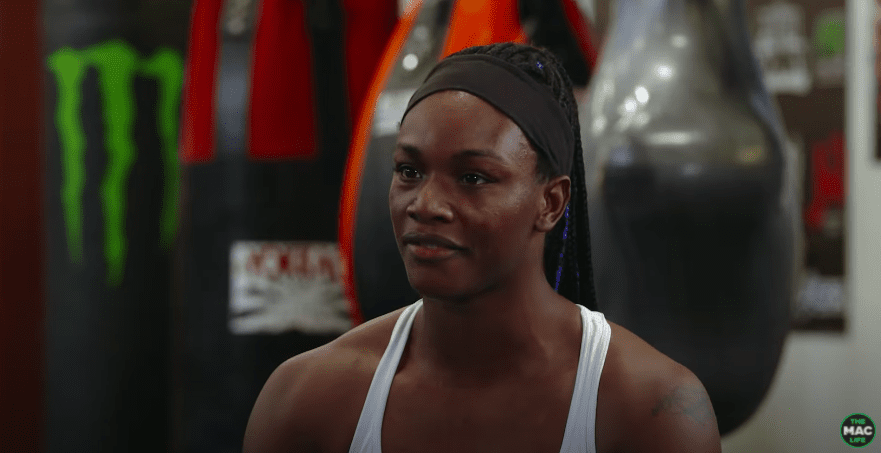 One of the most anticipated mixed martial arts debuts in quite a while will take place on June 10 when two-time Olympic gold winner and three-weight world boxing champion Claressa Shields puts on the 4oz gloves for the first time to take on Brittney Elkin in her debut fight for the PFL.
To some it is seen as a risky move. Why would an undefeated boxer in the prime of her career transition to a sport in which she is a relative novice? As Shields exclusively told TheMacLife, her decision to try her hands at MMA came about as a need to further challenge herself, and to break new ground by becoming the first person to hold a boxing and MMA world title simultaneously.
View this post on Instagram
"I was 25 when I signed the contract for the PFL and I've accomplished everything in boxing. I call myself the GWOAT, 'the greatest women of all time', and I feel like I've done everything in boxing to prove that — but being the GWOAT, it didn't come with the million dollar cheques, I didn't come with the endorsement deals, the sponsorships, it didn't really come with the respect from the networks," Shields explained.
"What else is there to do for me in boxing? I'm a twelve-time world champ, two time undisputed, three time division champ but what else can I do to get to the million dollar cheque in boxing?
"What other female fighter can say that she can possibly become an MMA world champ and be a boxing champ at the same time? I don't think there's any other woman that can say that, or any male who's willing to do that. For me, it's like you get to be that one person in a lifetime again.
"It was a real conversation with myself. Can you do the MMA training? Are you willing to learn the different arts, are you willing to humble yourself and start from the bottom and work your way up? I always thought it would be a James Toney kind of thing, when I'm done, when I'm retired — but why waste the body, why waste time?"
One of the names who reached out to Shields after she inked her PFL deal was one of the few fighters to have competed in both sports Conor McGregor, and Shields says that she was very appreciative of the Dubliner for offering advice.
"It feels great," she said. "I'm super excited that he's excited about me fighting. I'm happy that everybody's respecting my work ethic but it's just great to have another great reach out to you, who's been great in the sport of MMA: Jonny Bones, Holly Holm, Nate Diaz, Conor McGregor, to have them reach out and let me know that they're going to be watching and also to give me some tips.
"McGregor has sent me tips. 'Look, you've got to work on this, you've got to bounce on one foot… get used to bouncing, they're gonna grab your leg, get used to bouncing on that single leg so you can pull your leg out.'"
"And it feels good when you kick somebody!" — @claressashields talks her move into MMA, and what it's been like to experience the new techniques.. and pain.

FULL: https://t.co/zaodfxtidc pic.twitter.com/9b7PkzXZ8Y

— The Mac Life (@TheMacLife) May 24, 2021
Of course, there is another dominant name in the female boxing orbit and that is another of Ireland's most famous fighting warriors in Katie Taylor. The weight disparity between Shields and Taylor almost certainly rules out any possibility of the two competing against one another, but Shields says that there is room for them both at the summit of boxing.
"People always compare me and Katie Taylor, right?" Shields explained. "And people think that I'm so mad when [the pound-for-pound list] switches. Some months it's Katie, some months it's me. People think I'm mad that some months it's Katie. I tell everybody, bro, it's an opinion. If you like fighters who get into wars and come out on top, you will go with Katie. If you like fighters who are super-dominant and own a fight and barely get touched, you like me. If you like power punchers, you like me. If you like people who got fast hands and quick feet, you like Katie Taylor.
"It's not a big deal. We're both skilled. I have a whole bunch of respect for her and I feel like sometimes people paint it out like I'm hating on her. How? Why would I hate on someone I have more accomplishments than but who I also respect as a fighter?
"I think one of the biggest fights in history would be me versus Katie Taylor but we're nowhere near in weight. I told her maybe we can fight at 147 and Katie's like, 'I can't make 47!".
"It's a fight that will never happen but whenever she fights I tune in, whenever she wins I DM her and say great fight. I'm not a hater."
Comments
comments