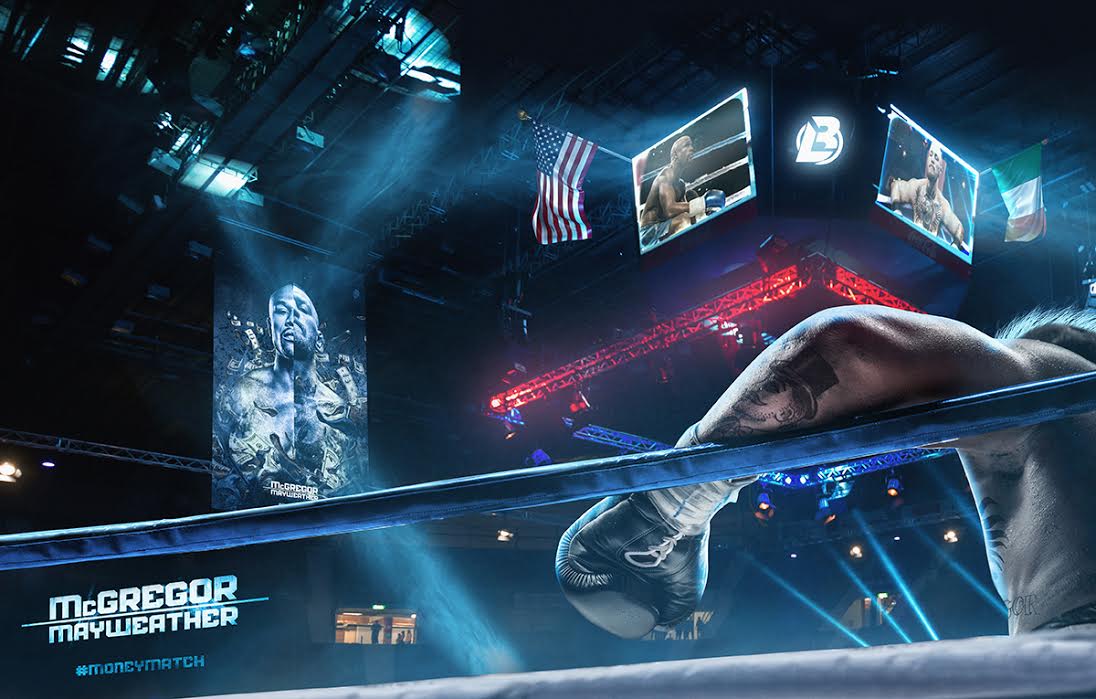 They're ready, it's on and both signed. Floyd Mayweather and Conor McGregor will box on August 26 at the T-Mobile Centre in Las Vegas.
The promotion, likely some of the most entertaining to ever take place, can now begin properly and the verbal barbs both men are renowned for can start to fire more and more. First, before looking ahead, it can be fun to look back. How did we get here?
The Planting of a Seed
July, 2015 — Ahead of his bout with Chad Mendes, Conor McGregor appeared on the Conan O'Brien show, when the red headed TV host asked McGregor if he would ever have an interest in fighting Mayweather.
"If you're asking would I like to fight Floyd Mayweather, I mean, who would not like to dance around the ring for $180 million?" McGregor said. "I certainly know he would not want to step into my world; the world of pure unarmed combat where there's no limitations, but I most certainly would step into his world. I would certainly box him if the opportunity arose. Most certainly.
"If we were to get it on, I would most certainly dismantle him also."
The First Skirmish
December, 2015 — Following the Conan appearance, McGregor's busy schedule in the UFC (facing Mendes then Jose Aldo) kept the discussion on both men to their respective sports. However, in a lengthy interview on race in sports with FightHype.com, Mayweather suddenly referenced what he felt was a difference in standards towards both men.
"I don't really know the McGregor guy; never seen him fight," Mayweather said. "I heard his name actually from one of the runners that works for our company; a little kid named Ken Hopkins, he's a runner and takes care of a lot of the daily business. Whatever we need, he takes care of. He's a cool little kid, I like him, and he does MMA. He told me about the guy McGregor. They say he talk a lot of trash and people praise him for it, but when I did it, they say I'm cocky and arrogant. So biased! Like I said before, all I'm saying is this, I ain't racist at all, but I'm telling you racism still exists."
McGregor was irked, and in response took to his social media to challenge Mayweather's comments.
"Floyd Mayweather, don't ever bring race into my success again. I am an Irishman. My people have been oppressed our entire existence," McGregor wrote. "And still very much are. I understand the feeling of prejudice. It is a feeling that is deep in my blood. In my family's long history of warfare there was a time where just having the name 'McGregor' was punishable by death. Do not ever put me in a bracket like this again.
"If you want we can organise a fight no problem. I will give you a fair 80/20 split purse in my favour seen as your last fight bombed at every area of revenue. At 27 years of age I now hold the key to this game. The game answers to me now."
The First Signs of Reality? 
May, 2016 — Just a month following the UFC 200 debacle, in which it momentarily looked as if McGregor was prepared to walk away from fighting altogether, U.K. tabloid The Sun reported that McGregor and Mayweather were on the verge of signing a deal to fight each other.
Citing an anonymous source, the paper stated quoted a source as having said "Floyd went mad after Conor said he would crush him and knock him out in 30 seconds; he's obsessed with making Conor eat his words. Floyd is calling the shots. It's strictly boxing and Conor will have to lose roughly 25-lbs.
"It was agreed in principle on May 2, but Floyd wouldn't reveal the identity of his opponent until last night when he told friends he'll be fighting Conor."
While UFC president Dana White quickly denied the reports, Mayweather emerged to state that it was in fact himself who had released the rumours, hinting that there may be some substance behind them.
"It's possible," Mayweather said to FightHype.com. "It was a name that was shot at me. The rumors that y'all been hearing is the rumors that I started. It may not be a rumor. Keep y'all fingers crossed — it may be a boxer versus an MMA fighter."
McGregor appeared amused, responding via Instagram and through interviews, issuing the now famous quote that "he needs me, I don't need him."
"At 27 years of age, Floyd Mayweather was on Oscar de la Hoya's undercard," McGregor said to ESPN. "Compare that. Who doesn't want to conquer both worlds? He's getting old now. I have the size, I have the reach, I have the height. I have the youth. He needs me, I don't need him. That's the truth of it. Who else he can fight? He fights someone else in the boxing realm, all of a sudden the pay goes from $100 million to $15 million. He needs me. If he wants to talk, we can talk, but it's me who is in control here."
The two then swapped fan made posters of the still hypothetical contest.
.@badmedina https://t.co/648Qb26FTL pic.twitter.com/67agluPAGt

— Floyd Mayweather (@FloydMayweather) May 30, 2016
The Words Begin to Bite
November/December, 2016 — After the two spent the summer addressing each other through the media, it appeared comments made by either man began to hold more weight. Ahead of his rematch with Nate Diaz at UFC 202, McGregor was asked by media if he was still interested in the bout, to which McGregor was emphatic in his response; if somewhat unflattering.
"Right now I have Floyd running around the Showtime offices gathering my money. That's what he's doing," McGregor said. "He's running around the Showtime offices, begging for those executives to come up with $100 million cash for me to fight me. So as soon as he gets my money, we can fight.
"If you want to fight me, we can fight. If you need a specific rule set to protect you from a true fight, that's no problem. Just make sure that money is there. As long as that money is there, then we can fight under your safety net of rules. But me, I don't need rules. I am the fucking rules."
Combine that with McGregor suddenly receiving a boxing license in California, and the fight appeared to be — at least in the Irishman's mind — moving towards a realistic goal.
Team Mayweather, at least on the surface, appeared enraged. Speaking with ESPN, Leonard Ellerbe, the CEO of Mayweather Promotions, blasted McGregor. Claiming the fight would never take place, and that the UFC champion was attempting to somehow be conning fans.
"It's all a game. It's all a calculated effort to gain more fans," Ellerbe said. "He got a boxing license. Congratulations to him. Conor McGregor can say anything he wants to but he has a boss and his name is Dana White. He is under contract to the UFC and if he wanted to fight Floyd Mayweather in a boxing match he can't because his bosses wouldn't allow that to happen."
"He has a good little hand game, a superior hand game compared to the UFC fighters he is competing with but fighting Floyd Mayweather is a whole other story. That bullshit you're throwing over there in UFC would get you killed against Floyd."
Combined with that, following McGregor's win over Eddie Alvarez at UFC 205, Floyd appeared to have grown tired of the conversation.
While McGregor himself seemed less than impressed.
Negotiations Begin
January, 2017 — In January, things suddenly changed. Dana White, who up until then had been dismissive of the fight ever taking place, went on live television and offered Mayweather $25 million to accept the fight with McGregor and the UFC. While Mayweather declined, it was the first sign of White being open to the idea, and the door being opened so a clash between McGregor and the UFC would be unnecessary.
Mayweather, who derided White as "a fucking comedian" took to Twitter to mock McGregor's wealth.
Before you ask for $25M, be worth more than $25M. You have the "2" and the "5" right but you meant to say $2.5M not $25M. pic.twitter.com/07vaWF0hen

— Floyd Mayweather (@FloydMayweather) January 19, 2017
Meanwhile, McGregor, who had been out of the public eye since UFC 205 and since his announcement of impending fatherhood, continued to appear amused.
Speaking with Ariel Helwani on a live pay-per-view interview, McGregor repeatedly made jokes at Mayweather's expense, before claiming the boxer was scared.
"He's the scared side," McGregor told Helwani. "Lets be honest, he's not trying to have a real fight, he needs rules to protect him. I don't need rules. He can say he's this and he's that but in reality he's scared shitless. He is scared shitless. If I decide to just fight him — fuck the UFC, fuck MMA, fuck boxing, fuck sports fighting — lets just say we fight, it would be the easiest fight ever."
But in the midst of the talk, it appeared the bout was now gone from a hypothetical and had become potential.
"I believe the next time I step into a combat arena will be through the ropes wearing 10-ounce or eight-ounce gloves," McGregor said.
Pump the Brakes
February, 2017 — McGregor, as he described in his Helwani interview, flew to Vegas to meet with Mayweather and resolve any issues. But, while that was the Irishman's plan, Mayweather instead left Vegas for New Orleans, posting to his social media that McGregor wasn't in a position to bargain.
— Floyd Mayweather (@FloydMayweather) February 14, 2017
— Floyd Mayweather (@FloydMayweather) February 15, 2017
To which McGregor responded:
I am in Las Vegas. Floyd has retired on my arrival. pic.twitter.com/z9EcxBJaDr

— Conor McGregor (@TheNotoriousMMA) February 15, 2017
Mayweather un-retires
March, 2017 — Mayweather's tone changed. Seemingly irritated by the constant questions, the boxer officially announced he would be coming out of retirement solely for a fight with the UFC lightweight champion. And along with it, came the first sign of Mayweather's genuine frustration with McGregor's talk.
"Conor McGregor, stop blowing smoke up people's ass you little bitch," Mayweather said, speaing with FOX Sports. "If you want to fight, let's make it happen you punk. Conor McGregor you don't even want to fight you little bitch, you little punk. Let's make it happen."
"So just letting the world know that he's full of [expletive]. He don't really want to fight. 'Oh I want to fight, I want to fight, I want to fight, Mayweather's scared of me'. Well listen, I'm my own boss, let's make the fight happen. You talking all that shit, you acting like you want to fight, I don't think you really want to fight. Sign the contract and let's make it happen."
In accordance with Mayweather's views, Dana White revealed — in contrast to public comments from prior — that he now believed the fight could take place.
Meanwhile, McGregor made his first appearance in the ropes of a boxing ring — albeit as a supporting act. However it was his comments at ringside that captured attention.
"You're the boxing guy? I'm the boxing guy. Watch me take over boxing," McGregor yelled at ringside reporters. "Trust me on that. No one in this boxing game knows what's coming. Trust me on that. When I step in there, I'm going to shock the whole goddamn world. Trust me on that. Look me in the eyes. Twenty-eight years of age, confident as a motherfucker, long, rangy, dangerous with every hand. Trust me, I'm going to stop, Floyd, and you're all going to eat your words. The whole world is going to eat their words."
Part One, Done
May, 2017 — Suddenly, the fight that so many had speculated as being impossible became halfway done. Both McGregor and Dana White announced to the world that they had come to an agreement on their side of the fight, and that all remained on Mayweather's team to get the fight agreed to.
"It is an honour to sign this record breaking deal alongside my partners Zuffa LLC, The Ultimate Fighting Championship and Paradigm Sports Management," McGregor said.
"The first, and most important part of this historic contract has now officially been signed off on. Congratulations to all parties involved. We now await Al Haymon and his boxer's signature in the coming days."
Game on
June, 2017 — The two men both confirmed via their social media pages that the fight had been agreed to, and would take place on August 26 in Las Vegas.
And already, it appeared the mind games had begun. While Mayweather's announcement picture came in the form of a generic poster, McGregor's had him compared to Floyd Mayweather Sr., the latest in a line of jabs at Mayweather Jr.'s age.
THE FIGHT IS ON. pic.twitter.com/KhW0u3jRft

— Conor McGregor (@TheNotoriousMMA) June 14, 2017
And, after all that, as McGregor's caption says: the fight is on.
Comments
comments