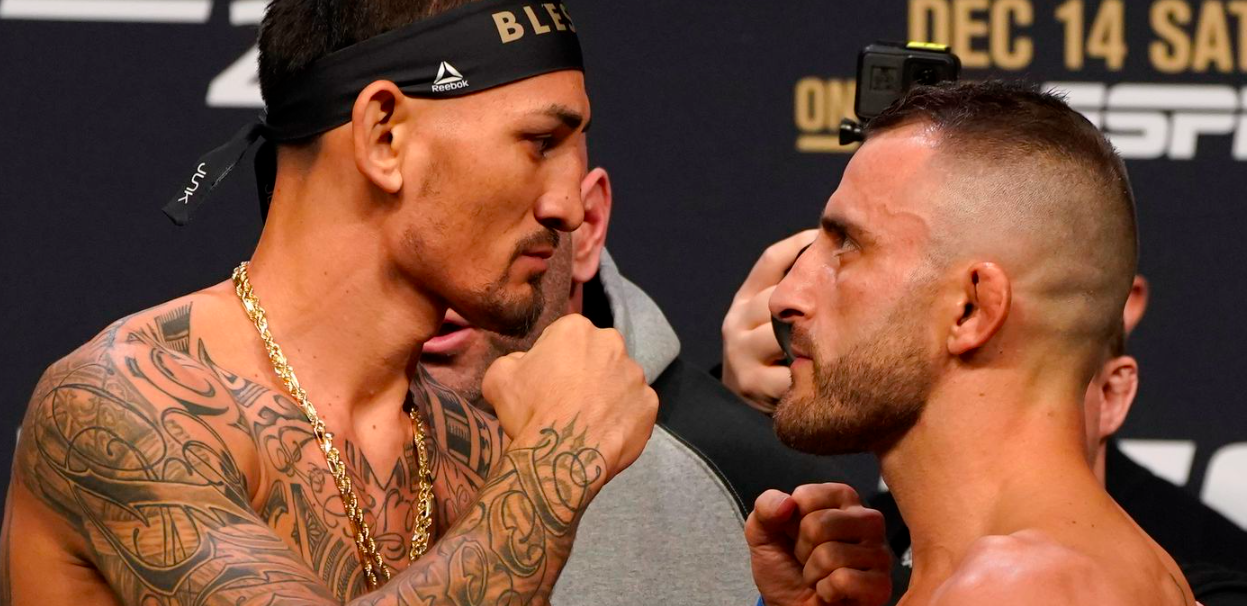 Max Holloway's comprehensive shutdown of the previously unbeaten (in the UFC) Arnold Allen a couple of weekends ago showed that the Hawaiian remains a significant threat at 145-pounds — even if he has come up short against the champion, Alexander Volkanovski, on three separate occasions.
But according to 'Blessed', he wants one more opportunity to claim a victory over the dominant 145-pound titleholder before he calls time on his career, even if that fight comes at lightweight.
"I think so long as Volk's fighting and I'm fighting, and I'm doing what I'm doing and he's doing what he's doing, I'm sure the fourth is going to line up somewhere," said Holloway to Ariel Helwani in a recent appearance on The MMA Hour, via MMA Fighting. "I don't know if it's at '45, I don't know if it's at '55, I don't know where it is — I think that fight is very reachable. I think we'll fight each other again down the line at some point, 100 percent. So at the end of the day, that's not really far off."
Holloway's declaration of intent comes shortly after Volkanovski told TheMacLife that he'd appreciate it if Holloway stopped knocking his potential title challengers off their perch. "That's why, I remember saying to him after the last fight, I just said to him, I go 'Get out of my division! Stop beating up my contenders!'
"You know what I mean? I'm saying stuff like that to him," the Australian continued. "Because again, I know a lot of people are gonna sit there and, before last night, and 'Oh, you know, he's fallen off' and all this stuff. I'm like, 'Nah, it's not that. Trust me.' Wait until he fights again, because you're gonna forget about that the next time. And he proved it [on Saturday]. He looked great."
Volkanovski added, though, that he doesn't see a fourth showdown as making sense. "You feel bad too, like, in that situation, like 'Why does that guy gotta be here and be in my damn division?'" he said. "So you can just imagine that I'm feeling just — obviously Max a cool dude, as well, great fighter. It's just, whether you're going to go there…it's hard enough to do a trilogy when you're 2-0.
"A lot of people were like, 'What are you doing? Why?' Where obviously now, the third one, it doesn't make sense. It's a tricky situation for Max, that's for sure. But, I guess, what do you say? You never know."
But in addition, there is another name that interests Holloway: Conor McGregor.
"But if he's asking me to give me a fight, I would love to fight Conor," Holloway said. "I was the only guy that took Conor to a decision at '45."
"I know he wants to come back, but that'd be a fight that [would be] super interesting, super fun," Holloway said. "A lot of a lot of questions. There's a lot of unknowns, because we're just two different fighters from who we were back then. And I think it'd be a fan favorite. I think a lot of fans would love that fight, a lot of fans have been asking for that fight, so we'll see what happens.
"At the end of the day, it's not even a weight thing, bro. I'll fight him openweight, whatever — whatever the commission would tell us, just show up to the weight, bro. Like, you don't have to worry. I'd just love to go out there and test him."
Comments
comments