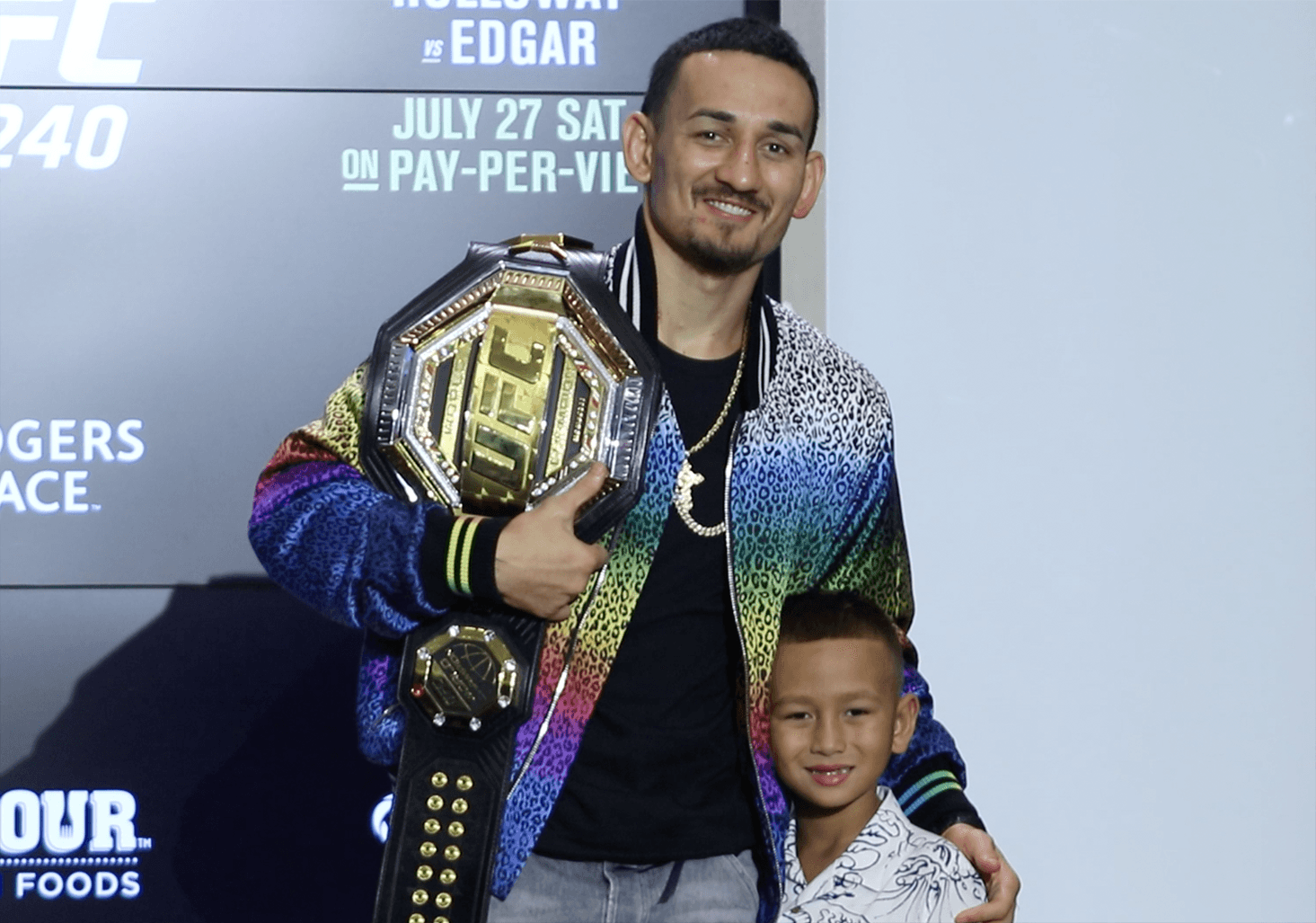 When fighters enter into a contest, regardless of what ruleset, there are very real risks.
Think of the examples inside the UFC's recent history for instance — Thiago Santos' knee, Michael Bisping's eye, Anderson Silva's leg — it's almost an inevitability that we see every athlete leave the Octagon worse than when they walked in, regardless it be in victory or defeat.
And while we've never seen the ultimate catastrophe inside the UFC cage, this week boxing provided a very solemn reminder as to how bad things can go for those who strap on the gloves with Maxim Dadashev, 28, and Hugo Santillán, 23, succumbing to injuries they sustained in the ring and passing away.
But if fans sometime forget the peril fighters willingly put themselves into in order to make money for their families, entertain the public and reach for glory, it seems UFC featherweight champion Max Holloway is keenly aware of what's at stake.
In July of last year, Holloway was scheduled to defend his 145-pound title against dangerous contender Brian Ortega. Then, the week of the fight, something went wrong. Holloway appeared drowsy and unfocused. He seemed sluggish beyond that of a usual weight cut. Eventually, after Michael Bisping appeared concerned about the champion during an interview, Holloway's team stepped in.
"Max's team and UFC staff noticed Max was not normal since late last week. This became obvious to many watching his interviews and public appearances the past few days," a following statement read. "He was showing concussion like symptoms before he even started his weight cut and was rushed to the ER on Monday where they admitted him over night. Initial scans seemed okay and he was released Tuesday afternoon but symptoms still continued.
"Max fought with his team to continue with the fight. He showed some improvement over the next day but was still showing obvious symptoms. After open workouts he crashed and was very hard to wake up, when he did he had flashing vision and slurred speech."
Holloway was pulled from the card and was sent to doctors for months of tests. To this day, it's unknown what happened to him that week, and while he's shown no signs of it having hurt his performances in the cage longterm, it's clear the drama still weighs on him.
Moments after defeating Frankie Edgar, Holloway told the media that he wanted to fight again by the end of 2019, but refused to commit to doing so until he returned home and visited doctors to check his health was fine. While he wouldn't go into detail on what exactly he wanted examined, he acknowledged the Ortega chaos left him determined to his due diligence after every fight for the rest of his career.
"It's something that you just gotta learn," Holloway said during his post-fight press conference. "One of those things that we get better and we get better and things like that happen. I got this little mini-me right here. I'm trying to be able to walk and talk and be fine. We had some tragedies that happened — not in our sport but in combat sports — this past week, that's pretty sad. We wanna stay on top of it.
"My manager, my team, they all push me to go to the doctors whenever something.. I can be telling them, 'Oh my gosh, my hand is sore'. I get texts, I tell one of the coaches, 'Oh my hand is hurt', I get a text from my manager ten minutes later, 'Hey look, check your Google calander, you gotta go to the doctors right now. I'm like what? What is going on? But these guys look out for the best of me, and that's why I love them. I'm trying to stay around for a long time, you know? Not a good time, a long time."
While Holloway's medical history (and mystery) seems to have, for the most part, left the public conversation, it takes just a small reminder for fans to get concerned. On Saturday evening, an innocuous video posted of Holloway entering into the arena garnered immediate attention for the champion's apparent uneven gait and uneasy expression.
In fact, it got so much attention, it even caught the eye of Holloway's old opponent, Conor McGregor.
McGregor responded to a tweet pondering if Holloway was sick, pointing to the deaths of Dadashev and Santillán, writing: "When 2 people have died in a week, and you've already had an issue, ignored by all, it puts that walk a bit different when you make it. I pray for both athletes tonight in there. Big respect for both."
It's worth noting, of course, that McGregor is one of the few to see the devastation a fight can have first hand, having seen a bout between teammate Charlie Ward and Joao Carvalho end with the latter's unfortunate passing.
When 2 people have died in a week, and you've already had an issue, ignored by all, it puts that walk a bit different when you make it.
I pray for both athletes tonight in there.
Big respect for both. https://t.co/asNNasyhrR

— Conor McGregor (@TheNotoriousMMA) July 28, 2019
When Holloway was asked about McGregor's comments, and if he understood the Irishman's appreciation for 'that walk', he replied instantly.
"Yeah. It's crazy. I understand that a lot," Holloway said. "It's something only a fighter knows. This sport is crazy. We always, me and my coach, we always joke around about it but the last meal before I fight, he says eat whatever you want, this might be your last meal. That's the way we approach it, because we're just warriors and stuff. We don't wish that, but that's what we say, that's just the mindset.
"You never know, you know? This world is crazy, this sport is crazy and it's just insane. Nothing but love and prayers to that family, actually two families. Prayers out to them."
While the UFC is (as White often touts), "yet to have a death or serious injury" in a fight, the risks is always there, whether the athletes want to be as willing as Holloway to recognise them or not.
Perhaps something fans should try to remember when they flock to social media to ridicule men and women who've lost while fighting for something better.
Comments
comments