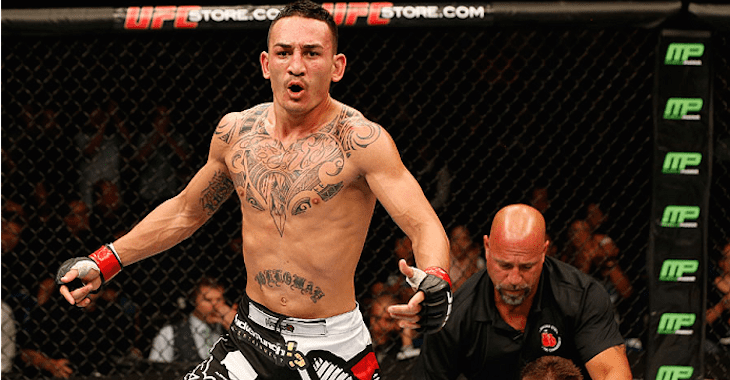 At UFC 216 last Saturday, Tony Ferguson seemed to impress all as he outlasted an initial rush from opponent Kevin Lee to win via submission in the third round.
Claiming his tenth win in a row — as well as the UFC interim lightweight title — Ferguson appeared to put himself in pole position to face the returning Conor McGregor sometime in the upcoming months. But while most gave Ferguson plaudits for his victory, one person who seemed to be less than enthralled with the new interim champion was another UFC title holder — Max Holloway.
In a Twitch stream recorded after the event, Holloway was left a comment by a user which compared him to Ferguson, stating: "you are the Tony Ferguson of featherweight division, no one wants to fight you, by far the hardest fight in the division."
Holloway, it seemed, didn't appreciate the comparison.
"Don't ever fucking call me anybody of the featherweight division," Holloway said. "I'm my damn self. This guy's following my lead; I got to ten [wins in a row] faster than him. And I got my belt faster than him. Do not compare me, motherfucker. I'm in a league of my own."
The two do have a bit on common. Both have two of the most impressive win streaks in mixed martial arts at present, with Holloway on eleven and Ferguson's victory over Lee putting him to ten.
But with Holloway being the current UFC featherweight champion, Holloway and Ferguson are unlikely to cross paths inside the cage anytime soon. Although, at twenty five years old, the Hawaiian has made mention of moving up to lightweight as his body begins to get bigger and the weight cut becomes harder.
Comments
comments