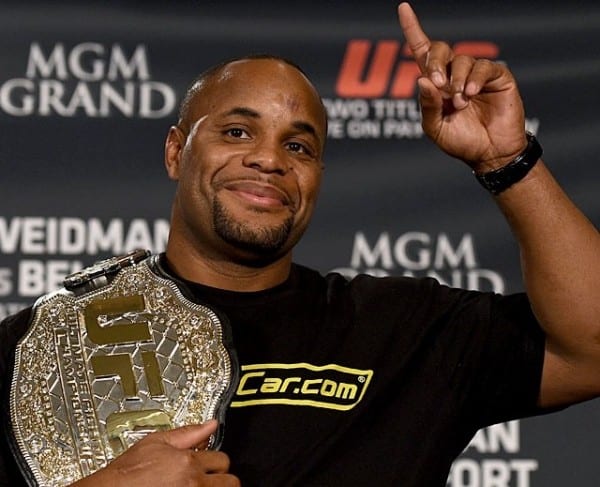 Last week, Daniel Cormier revealed that he no longer had any intentions of being amicable towards his former opponent Anthony 'Rumble' Johnson, after believing Johnson to be too friendly with rival Jon Jones.
Speaking on his podcast, Cormier said he'd seen Jones and Johnson hugging backstage at UFC 214, and it appeared to him that Johnson was offering Jones fight advice. To be that friendly with a man you might end up fighting, Cormier said, was a sign of weakness and a lack of true competitive spirit.
Johnson didn't take long to respond, taking to his social media and refuting Cormier's claims.
"Damn D.C. didn't know you were salty cuz I talk to the 1 guy that knocked you out. Fucking soft is what you called me, oh well that's your opinion," posted Johnson. "Saying I gave Jon advice lol buddy what advice is there to give him? I wasn't fighting either one of you, so there's no point of giving advice. That's not my style! I believe in fair fights period.
"Friend's? We were NEVER friend's! I've respected every man in the sport no matter what. I've shown JBJ respect through his tough times and have shown you respect the same way. I retired cuz I have other thing's in life I want to do but just cuz I met with UFC and talked you have an issue.
"So take your cry baby ass on and praise God that Jon screwed up and you got the belt back that way!
Now, after taking a moment to digest Johnson's reply — after initially being furious — Cormier has realised he was in the wrong.
"After Rumble put that post up, I tweeted him, but then I texted him because I was mad, like, 'I'm mad. I want to fight'." Cormier said, speaking on MMAJunkie Radio. "The reality is, I texted him and I said some things that weren't very cool, but then I was talking to somebody that means a lot to me and they said, 'Why are you so mad? You started it. You said stuff and you're mad at him.
"So the reality is, I was wrong. I shouldn't have called him soft. I didn't like the action but why do I expect so much out of him? Why do I expect him to not be able to be respectful and still compete at the highest level of the sport? So I walk it back a little bit. I was wrong. I shouldn't have said anything about him being soft. Everybody does not have to view competition like I do and I think that's why – if he wants to be friends with [Jon] and be nice and cordial, then fine. What does that matter to me?"
"I need to talk to Rumble and try to either apologise or make it right in some way, shape, or form. The reality is, I was wrong. Not everybody should view competition like I do. So to Anthony Johnson, I apologise. I should not have said that. I should not have said that. I should not have said that and because I said it, I have to truly expect him to respond and he did and because he responded, I should not try to fight him in the streets of Las Vegas. I've got to be better than that."
Comments
comments