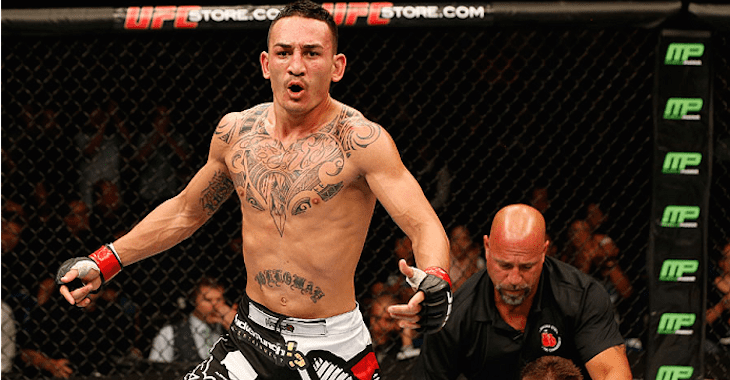 Max Holloway is the new featherweight champion of the world, and after Saturday night, he doesn't have to share that belt.
Last night, Holloway defeated Jose Aldo in Brazil at UFC 212 to unify his own interim title and the belt that Aldo received following former champion Conor McGregor's stripping of the belt back in November. And while it was a rocky start for the Hawaiian 25-year old, Holloway ended up with his hand being raised decisively, finishing Aldo with ground and pound in the third.
According to Holloway, it was all just another day at the office.
Speaking backstage after the win, Holloway was asked his thoughts on Aldo and the competition, and while he emphasised the challenge he knew he was facing, there was one area Holloway was expecting more from the Brazilian — speed.
"I knew he was going to be a tough challenger, he's the GOAT," Holloway said, post-fight. "But I really thought he was going to be a little bit faster. So the first one kind of threw me off, because I was seeing everything, I was like 'oh shit, he's not that fast', so it was kind of 'offing' my timing a little bit. Man, I thought he was going to be way faster, I expected a lot.
"I just had to get my timing. Once I started doing my thing, dropping my hands clean, I felt like me again. I had five rounds, this wasn't three rounds, I had five rounds, I didn't have to rush through it. I'm blessed man. Blessed era, welcome."
—
Comments
comments