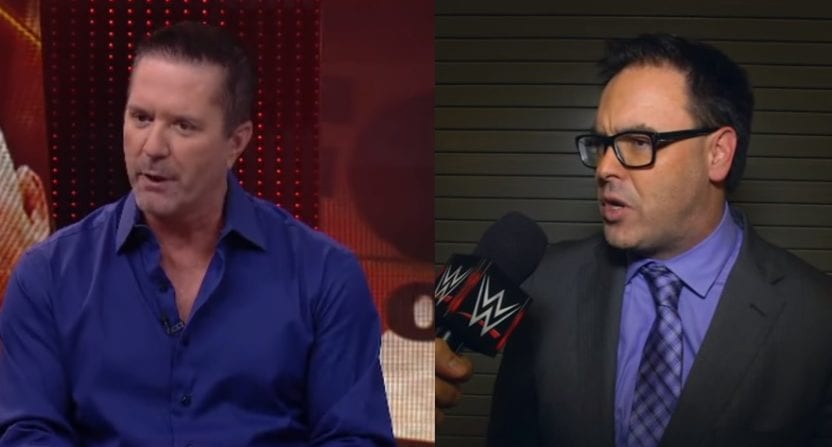 Bellator have revealed exactly how newly-signed commentators Maura Ranallo and Mike Goldberg will contribute to their debut event in Madison Square Garden this weekend.
Mauro Ranallo, former play-by-play announcer for Strikeforce and the WWE, will lead the Bellator NYC pay-per-view portion of the broadcast alongside colour commentator Jimmy Smith, with Mike Goldberg hosting the the desk for the broadcast. Earlier in the evening at the Bellator 180 portion of the event, the roles will be reversed with Goldberg on play-by-play duties and Ranallo hosting the broadcast. Smith will pull double duty in his colour commentary for both sections of the event.
The acquisitions of Goldberg and Ranallo, who are two of the most recognisable voices in combat sports, will likely go some way as to legitimising the Bellator product in the eyes or casual or neutral mixed martial arts fans. Goldberg was available since his contract was not renewed by the UFC last December, while Ranallo was a free agent following his leaving the WWE after a reportedly tumultuous few months there.
Sean Grande, who has served as play-by-play announcer for Bellator for two years, announced that he was leaving Bellator recently — a move which expedited the announcement of Goldberg and Ranallo as being the latest free agents to ink a deal with Scott Coker.
Bellator's debut Madison Square Garden event takes place on Sat 24th June. They PPV section of the card will be headlined by a grudge match between Chael Sonnen and Wanderlei Silva and will also feature Fedor Emelianenko vs. Matt Mitrione.
The Bellator 180 card prior to the PPV is topped by a light heavyweight title match between Phil Davis and Ryan Bader and also features James Gallagher vs. Chinzo Machida.
Comments
comments