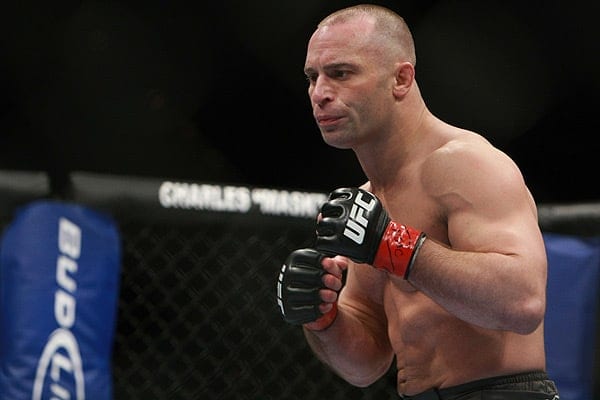 Colby Covington isn't just getting his current peers fired up with his brash trash talk, he's finding a way to annoy those who paved the way from eras gone by.
Case in point, Matt Serra.
The surprising beef comes after Covington apparently had a grievance with UFC Unfiltered podcast hosts Jimmy Norton and Serra after the podcast had Kamaru Usman in studio while Covington called in prior to UFC 225, and Norton attempted to have Usman and Covington go back and forth on the show.
When Covington was later asked his thoughts on doing media in New York, he went off on Norton and Serra, saying Norton was a little nerd and Serra was a short, fat little midget who was losing a fight to diabetes '10-8′.
Serra, who is set to be inducted into the UFC Hall of Fame next month, didn't appreciate what he considered low hanging fruit.
"When guys attack me with wit, I [think] that's good, but not the fat jokes, the short jokes," Serra said, speaking on his podcast UFC Unfiltered with co-host Jimmy Norton. "Dude, I'll 8-Mile your ass. Yes, I could be taller. I could be a little be a little thinner. What the fuck does that mean? I rip Kimuras. I'll smack the fuck out of this guy. You put this guy, you lock him in a room with me, I don't care about his cardio. Guarantee you, I'll be the guy walking out. I will guarantee you.
"I'm not talking about fighting in MMA, I'm not in shape for that shit. I'm not chasing him around a cage. No. Fuck that shit. You lock us in a fucking room together this size, see what the fuck happens."
That being said, Serra knows at the end of the day, it's hard to criticise Covington's shtick when it's done nothing but pay off for the welterweight. Particularly in light of his victory over Rafael Dos Anjos at UFC 225.
"He insults so many people it's hard to take it personally," Serra said. "… He's just looking to be the bad guy. That's why I don't take that shit to heart, you know what I'm saying? Because I don't believe he'll say it how close I'm sitting to Jimmy [Norton]."
hall of fame last month
Serra isn't the only UFC Hall of Famer to come out recently with a grievance against a current star. Last month, former UFC light heavyweight champion Chuck Liddell announced his intent to fight once again after retiring eight years ago, and pointed to Jon Jones as a desired opponent.
Comments
comments