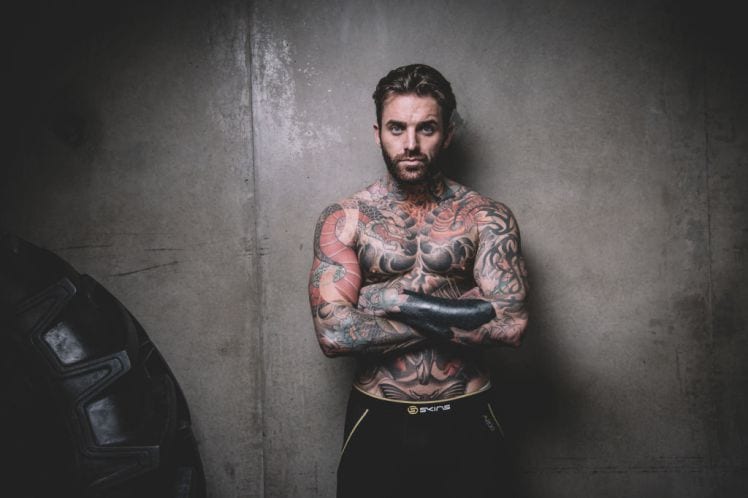 While some fans might have been less than enthused to be watching CM Punk vs. Mike Jackson on Pay-Per-View last Saturday, there was one man sitting at home watching intently — Bellator star Aaron Chalmers.
For some, Chalmers and CM Punk represent something of a similar story in mixed martial arts, both entering the sport on the back of public success in entertainment industries elsewhere. They've also received the same criticisms, with claims laid that they've used their fame to grab opportunities in MMA they'd usually not be granted.
Because of those commonalities, a fight between the pair has seemed fairly logical. And, with Punk's loss to Jackson in dominating fashion means he's likely done inside the UFC, and with Jackson's victory in dominating fashion apparently pissing off Dana White to the point where Jackson's done in the UFC, Chalmers sees an opening.
Yes we are happy to fight Mike Jackson or CM Punk

100 percent down for both

— Aaron Chalmers (@AaronCGShore) June 10, 2018
My team have already asked for either of them https://t.co/r221IkP5jn

— Aaron Chalmers (@AaronCGShore) June 10, 2018
The former Geordie Shore star took to his social media over the weekend to reveal he'd been on to Bellator matchmakers in an attempt to get a fight with either Punk or Jackson made.
Should those not happen, however, the welterweight is still open to fighting names already established under the Bellator umbrella, like Kimbo Slice's son, Kevin "Baby Slice" Ferguson Jr.
"I'm open to any fight Bellator give me," Chalmers said, speaking with JOE. "Obviously the 'Baby Slice' fight is the one I want as I think we are both on similar paths but we have asked for Mohammad Yahya if he is available. He's 5-1 and signed to Bellator so would be a good challenge.
"CM Punk is a huge money fight but all people will say is I'm getting easy fights. Before last night they were saying CM Punk would destroy me."
Comments
comments