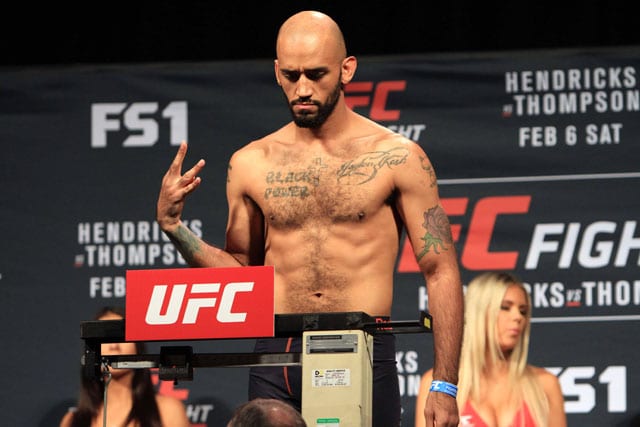 You might be able to understand Mike Jackson's thinking here. After a dominant win in the UFC — his first — against Phil 'CM Punk' Brooks at UFC 225 last weekend, Mike 'The Truth' Jackson figured that he was standing on the doorstep of a long and fruitful UFC career.
He called out Artem Lobov following his decisive win against Punk. It seems he even had his own brand of hand gestures and all manner of other gesticulations ready all planned and ready to go.
Not so fast, however.
The nature of Jackson's win against Punk, where he appeared to not take the fight seriously and 'toyed' with his opponent at various times in the three-round fight, drew considerable ire from Dana White who would later comment that he considers the fight a loss for Jackson as well as for Punk.
And this was something that Jackson had to grapple with over a post-fight pizza, no less.
"I'm just like, 'What?" Jackson said in an interview with MMAJunkie. "I couldn't even enjoy my pizza."
White would later refer to Jackson as a "complete fucking idiot" and condemned him to a future career outside of the UFC, a far cry from the the revelry that Jackson has been experiencing after hearing his name read aloud by Bruce Buffer at the end of the fight.
"I went out there and cooked his man," Jackson said of White. "I don't know if they had investment in him to win the fight, but look, he's a cash cow. If he would have won, they would have given him another fight, and he would have made them a lot of money. And I ended that train. But I told people what I was going to do.
"I wasn't showboating," Jackson added. "I didn't know how many more fights I was going to have in the UFC, so I wanted to go out there and cook him – and that's what I did. I got all 15 minutes, and good for him.
"I hope this is going to be his last fight, so I wanted to go out there and maximize his experience, as well, and give him the most time. I gave him the most time, as well.
"People are savages, man. They want me to go out there and give this dude brain damage. I could have done a lot of damage to him, and I didn't want to do that. I hit him, and he didn't go out, and I was like, 'All rright, he's a tough cat.' So let me not hit him with those same kind of shots anymore. I carried him for three rounds, and I cooked him. You saw his face. It looked chopped beef in there."
The criticism from White leaves Jackson in an odd position. Unless stated otherwise it looks as though his brief tenure in the UFC has come to a premature end but Jackson says that he deserves the opportunity to speak to White face-to-face to discuss their differences.
"I reached out," Jackson said. "Hopefully, he gives me a call back or text this week and we can discuss this, because he used his platform to sh*t on me, and it's just not right."
Comments
comments