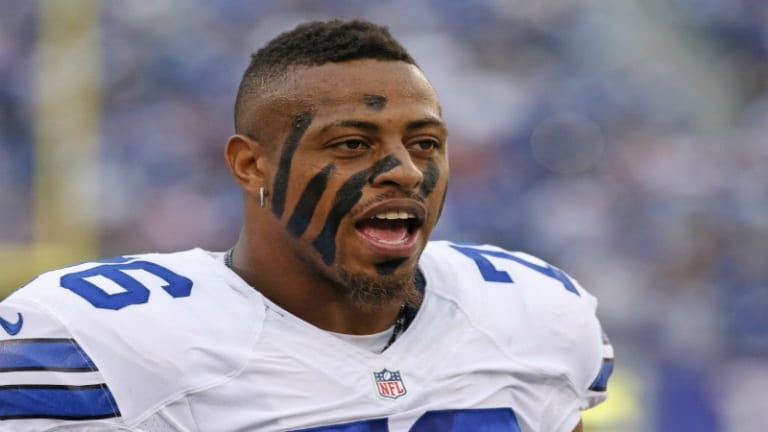 Greg Hardy, the former Dallas Cowboys defensive end who has been hit with domestic abuse allegations, has been awarded a UFC contract after a swift knockout on his professional debut at Dana White's Tuesday Night Contender Series in Las Vegas. 
Hardy, who recorded 238 tackles in the National Football League, knocked out fellow former NFL player Austen Lane in a heavyweight contest in his first ever professional bout. He had previously recorded a 3-0 record in the amateurs.
Greg Hardy gets it done 0:57 Knockout #DWNTCS #UFC pic.twitter.com/PmxxWyAR0z

— Joe p (@Joey_Purg) June 13, 2018
"It's awesome news," Hardy said after the win per ESPN. "I get an opportunity to show what I've got, go back and work hard and come back even better than before. It's exciting. It's everything I could ask for.
"I just want to get back in the ring. Whatever show it is, I just want another opportunity to fight. Man, I'm having the time of my life and really enjoying it."
UFC president Dana White announced shortly after the bout that Hardy was to be awarded a UFC contract but doesn't seem keen on rushing him into top flight competition given his inexperience.
"This is strange, when you look at a guy like Hardy, he has no experience, tonight was his first professional fight, but man can he punch and obviously there's a lot more to that guy," said White.
"So what we're going to do is bring Hardy in. This guy needs to get some more experience and we'll figure out how to do that."
Hardy is one of the more controversial figures in American sports in recent times. He was sentenced to 18 months of probation for domestic abuse, which led to his release from a four-year spell with the Carolina Panthers. The charges were later dismissed after the alleged victim failed to make herself available as a witness during a legal appeal.
Having wrapped up his NFL career after getting released by the Cowboys in 2015, Hardy soon began training for a career in mixed martial arts and has been spending his time on the mats of American Top Team in Florida, where he trains alongside the likes of UFC welterweight champion Tyron Woodley.
His entry-point to the UFC remains unclear but it is worth noting that the next season of The Ultimate Fighter has put out a casting call for heavyweights and, to us at least, that sounds like as good a way in as any.
Comments
comments