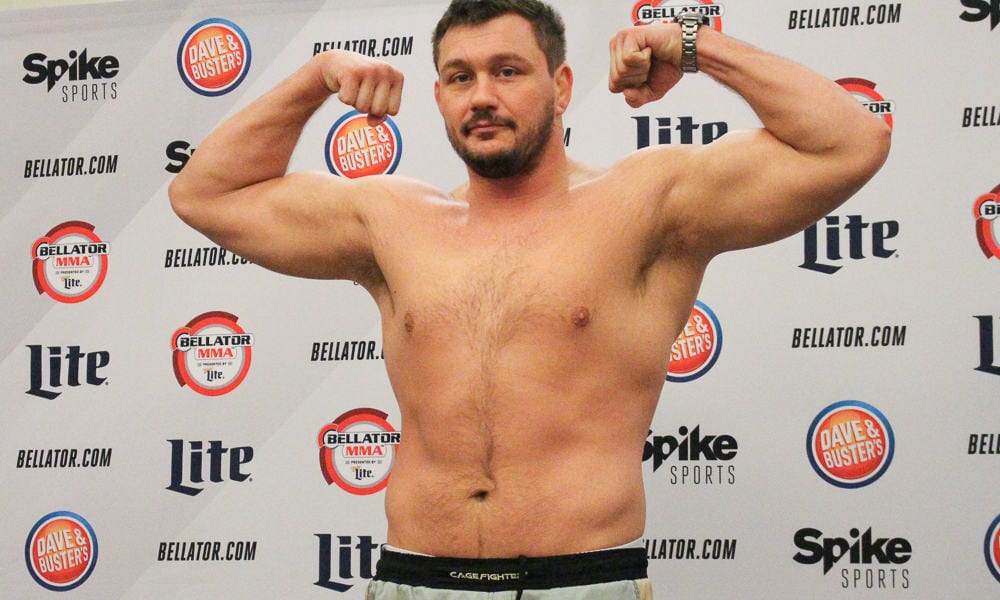 Matt Mitrione may have won his fight with Roy Nelson and advanced in the Bellator Grand Prix, but that doesn't mean he's totally happy with how the contest went.
While Mitrione won the first two rounds, using footwork and range to keep Nelson at bay, in the third Nelson got the takedown and secured the crucifix position — putting Mitrione in one of the worst spots a fighter can be in. Luckily for Mitrione, Nelson failed to capitalise on the moment, and while the round went to Nelson, two judges didn't give him a 10-8, meaning Mitrione walked away victorious.
Despite that, Mitrione believes there as some untoward behaviour from Nelson going on during that third stanza that most failed to see, and he's not impressed with his two time opponent.
"So we knew if I got put in a crucifix that I was going to do this one move," Mitrione said, speaking on MMAFighting's The MMA Hour. "Which I did, so if you go into the video [of the fight] … if you go into a 1.54 seconds left of the third round, you're going to see me do a move which I do. I bring my left heel, I bring it across his right calf, I squeeze my knees together, and if I bridged or twist my hips hard enough it actually becomes a sweep and I end up on top and Roy loses his position.
"Well when I reached my legs across, I didn't squeeze my legs hard enough, but it was enough for Roy to feel he was going to lose his balance if I did it again. So once he got out of it, which he did, he maintained position, Roy then took his right big and toe and lifted it off of the ground and stuck it inside of the fence. And then for 45 seconds, or 40 seconds or so, inside of that round he was on top of me punching me or elbowing me, he was cheating. He had all this leverage because he was pushing off the fence driving into me."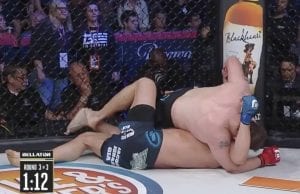 It's not that the move cost Mitrione the contest, or necessarily caused him undue harm, it's that Nelson has long maintained a sense that he's an athlete focused on fair play and doing things the right way. An image, Mitrione says, is completely phony.
"And then [for Roy] to grandstand and be like, 'I'm full of integrity, I don't cheat, I don't do steroids' or anything else, and when the fight comes down to it … to say like I'm full of integrity blah blah blah, you need to win because you lost the first two rounds, then you start to cheat?" Mitrione said. "Just so you can win? That's garbage man. You're a grandstanding dude with false integrity, and I've nothing got nothing for it. And if you guys think I'm being a sore winner, just go back and watch the film.
"So what I'm saying is, for the time he was supposedly winning that fight — for the second half of the third round — he was cheating. So I don't consider it at all, I think I smoked him unanimously and I think he's a cheater and I've lost all respect for him, and I'm not going to be cool with Roy going forwards again.
"I'm not even going to talk about what happened backstage. But I'm going to tell you old boy's got issues. He's got character and quality issues. I don't like Roy Nelson, he's not my dude anymore. I have no plans to be cool with him. If you're going to cheat and try to beat me, you're a dirt bag and I have no respect for you."
A fired up @MattMitrione claims Roy Nelson cheated during their #Bellator194 main event bout: "I lost all respect for him and I'm not going to be cool with Roy moving forward." #TheMMAHour pic.twitter.com/P3Pl0SzQL6

— MMAFighting.com (@MMAFighting) February 19, 2018
–
Comments
comments