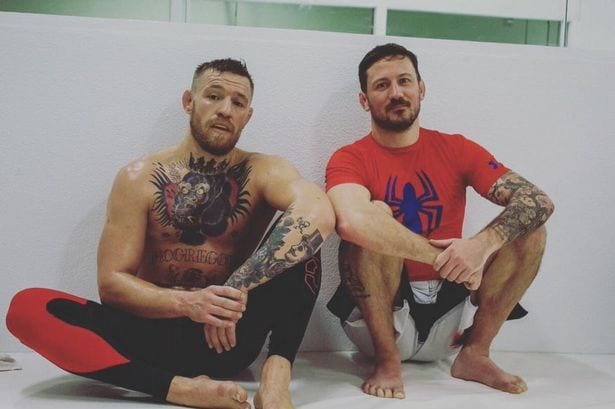 When Conor McGregor focused on boxing last year in order to prepare for a mega bout with Floyd Mayweather, some of the Irishman's fans were concerned it would cost the UFC champion a step when he eventually returned to the UFC Octagon.
Now, with training back on and preparations underway, McGregor's coach John Kavanagh can calm any fears that some outsiders may have, believing McGregor to be right back to where he was prior to the Mayweather contest.
"Annoyingly enough, almost none," Kavanagh said to Joe.ie on if McGregor had lost any sharpness in MMA training. "You know, within a session he was back to where he was. And it's something, it's funny, I've noticed with all my guys. If they take time off for an injury for a couple of months, they come back sharper. And that's not something that I've only seen, most coaches I speak to say this. When you take a bit of time away from something, it gives a different part of your brain time to work on it. Whereas if you're just every day working you don't get time to kind of assimilate what you've been doing for the last couple of months.
"So he's come back in phenomenal shape."
While nothing has been put on paper yet, McGregor is expected to make his return later this year against the winner of the Khabib Nurmagomedov vs. Tony Ferguson fight on April 7. Both men provide fascinating challenges for McGregor and his team, as well as different qualities outside of the cage to contend with. For Kavanagh, he's not showing any preference to either man, and is willing to see McGregor face either.
"I think both is interesting," Kavanagh said. "Obviously Khabib has that grinding style, decision victories, chain wrestling, heavy grappling. Tony is a bit more fluid, he's jumping on submissions from any angle, very dangerous in every position. So different fighters, but either would be welcomed."
We asked Conor McGregor's coach John Kavanagh about his next UFC opponent and now we're very excited…💥 🥊#EAUFC3 w/ @EASPORTSUFC pic.twitter.com/TkCDTqtyTn

— JOE.co.uk (@JOE_co_uk) February 19, 2018
—
Comments
comments