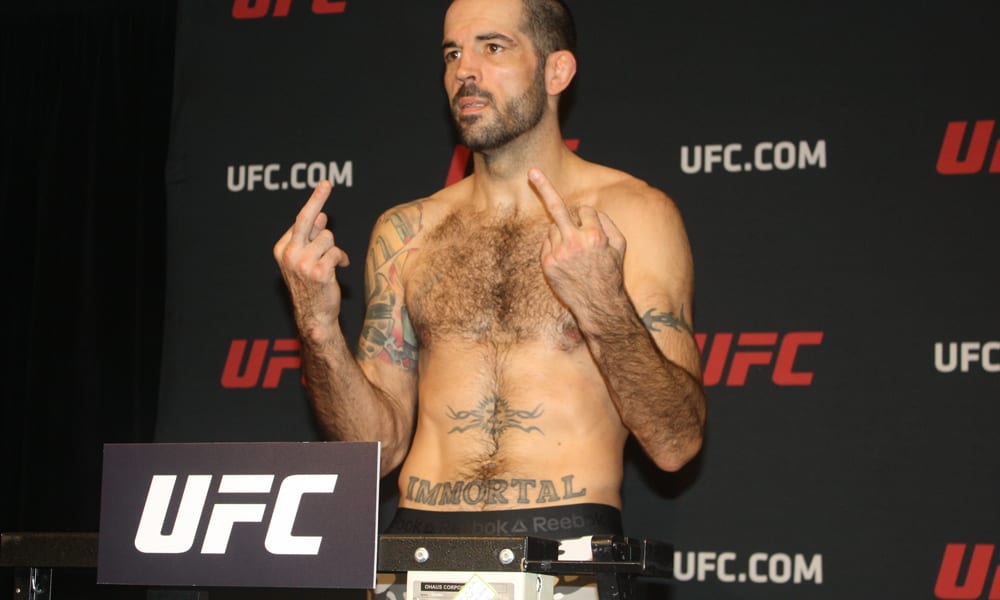 We have seen time and time again in the fight game that retirement isn't exactly a permanent thing. Numerous fighters from various codes have hung up their gloves only to feel the itch coax them back into competition. Matt Brown, on the other hand, may have set some sort of record after his retirement from mixed martial arts lasted all of two months.
Brown initially stepped away from the sport in November after a vicious elbow knockout of fellow veteran Diego Sanchez at UFC Norfolk, a win which snapped a three-fight streak of losses for Brown. With that 'W' once again under his belt, Brown appears ready to go and get another against a fighter very much cut from the same cloth in Carlos Condit.
WHAT AN ELBOW! Matt Brown KO's Diego Sanchez for the finish at #UFCNorfolk! https://t.co/i7MIUI1rXE

— FOX Sports: UFC (@UFCONFOX) November 12, 2017
Speaking with the Fight Society podcast earlier this month, as reported by MMAFighting, Brown explained that the opportunity to finally trade blows with Carlos Condit would be too hard to turn down.
"Maybe it's time for me and him to lock horns," Brown said of Condit. "I'd love to. I've got so much respect for him. Of course, I would love to. Everybody would want to see that fight. It was supposed to happen before. We'll see what happens. That's definitely one people would want to see no matter what. It would be a fight for the ages. Now it would certainly be a fight that would make me want to come out of semi-retirement."
Brown and Condit were first scheduled to face each other in 2013 before injury caused the bout to waylaid and now, some five years later, it seems the time is finally right to see the two of them square off inside the octagon.
Speaking to MMAJunkie, Brown elaborated on his reasons for prolonging his mixed martial arts career and says that his family was the primary motivator behind it.
"(The) kids love me fighting," Brown said. "They were jumping up and down when I told them I was fighting again. They were like, 'Yes, yes' and pumping their fists and shadow-boxing. They're all about it. They want to see me fight, and they want to see me beat people up. So, they're excited.
"I think the more adult family – it's kind of up in the air. We see the pros and the cons. My wife certainly enjoys more time with me. But she likes fighting, too. She likes to see me accomplish what I set out to do. So we're in it together.
"It really scared me, the thought of retiring," Brown added. "It was a really nerve-wrecking thing. And I had no idea what I was going to do. So I just kind of had to make it official – which turned out not to be official, but at the time it was official. And I'm not so scared. I had lot of opportunities come up. I've been doing a lot of work with MusclePharm, specifically.
"… Just a lot of opportunities came up that I guess I just didn't realize were out there, because I've always been so hyper-focused on the fighting. And it just made me feel a lot more comfortable with stepping away from the sport. Just realizing there's another world out there, and I can handle that, and I could be content with that."
The UFC have yet to officially announce the Brown vs. Condit fight but it is understood that the organisation is targeting a Fight Night event in April to host it.
Comments
comments