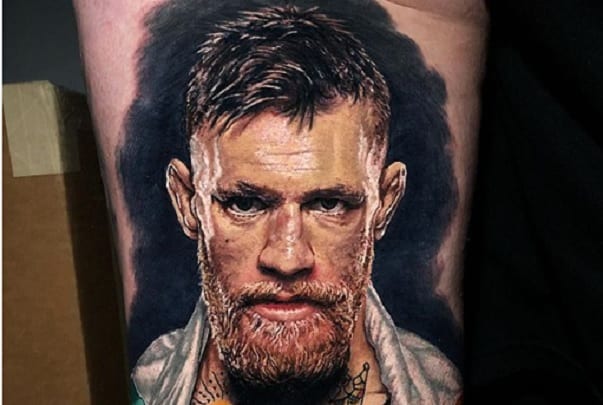 Steve Butcher, a master tattooist from New Zealand, had an idea of what he wanted to do when a client asked him for a Conor McGregor tattoo.
"I really wanted to do one of Conor where he had a nice shirt on, his glasses on and he's smiling, looking like a rich guy," Butcher said via Marc Raimondi of MMA Fighting. "Because I love that about him, that cockiness about him. He wasn't going for it."
Instead, the customer requested a version of the Irish two-weight champion inside the proving ground where he does his work – the octagon.
The finished product took a total of 12 hours to produce, showing McGregor with the Irish flag draped around his shoulders and is situated on the back of the client's leg.
"It's a lot of work," Butcher explained. "Achieving the level of detail takes a lot of time, it takes a lot of layers and a lot of building up the colors and stuff like that. Most of those portraits take about 10-to-12 hours, so it's hard for the customer to sit there for that long. But I'm pretty gentle, so they seem to last the time."
The most difficult aspect was to recreate McGregor's famous gorilla tattoo on his chest, itself a tribute to the iconic SBG gorilla logo.
"It was difficult, because I'm a realistic tattoo artist," Butcher added. "So when I have to do traditional tattoos that are on someone's chest, it's like, 'Man, this is not my style, so it's kind of scary.' But I think I did a pretty good job, I think I managed to put in some straight lines. I don't do a lot of line work, so I'm glad it looks like his tattoo."
This isn't the first time that Butcher has created a McGregor tattoo, having previously inked a client with an image from the famous conclusion to McGregor's victory against Nate Diaz in August of 2016.
Images via Steve Butcher Tattoos
Comments
comments