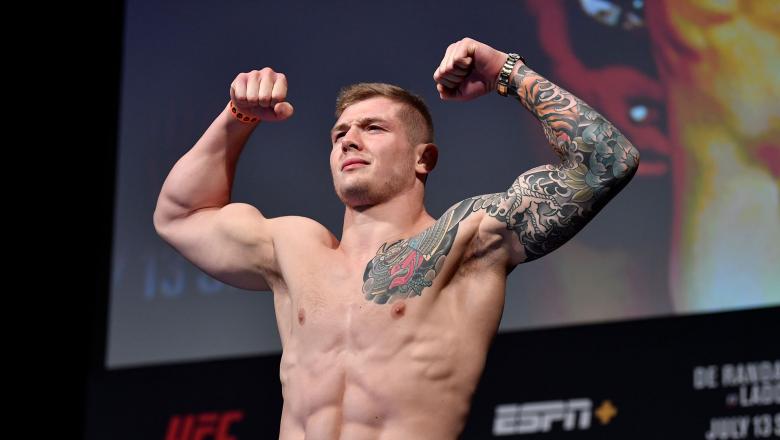 Marvin Vettori has an issue with Paul Felder, and he's looking to resolve it.
The hot-headed Italian and the retired lightweight went back and forth not long ago after Vettori took umbrage with some of Felder's commentary on a fight between Nasrat Haqparast and Dan Hooker at UFC 266. In Vettori's mind, Felder was being biased, and needed to be told to watch his work and do better, leading to a Twitter spat between the pair during the pay-per-view event.
"I just don't like, and again, I came out saying this because I saw it happening to a friend of mine [Nasrat Haqparast] and not actually to myself," Vettori said, speaking to MMAFighting. "Saying that, it actually happened to myself multiple times and one of the times was actually my last fight [against Israel Adesanya].
"Paul Felder tried to be the smart kid in the comments when he replied to me. I didn't really like that. It's not that I didn't like it, it's just coming from him, it's not like it really made sense but he tried to be funny. I addressed the thing that was important to me."
In Vettori's mind, the UFC commentary team can be far more powerful than the people at the desk imagine, and often their words lead to forming fan opinions on a fight as it plays out — something Vettori pegs Felder as the worst offender for.
"Sometimes I feel like commentators, they just try to bias the public and whoever watches the fight cause they have that power sometimes and it's wrong," Vettori said. "We put our heart and soul out there and even him being a fighter and even him talking to the fighters before they fight, he should know better. Sometimes, I don't know what goes on but I just feel like him in particular, he's a puppet.
"I'll see him and I'll talk to him. I like to talk face-to-face. At the end of the day, we're in a civilized society, kind of civilized. By saying that, it's not that it's going to bother me or nothing. I just couldn't keep my mouth shut when I saw it happen to a friend."
Comments
comments