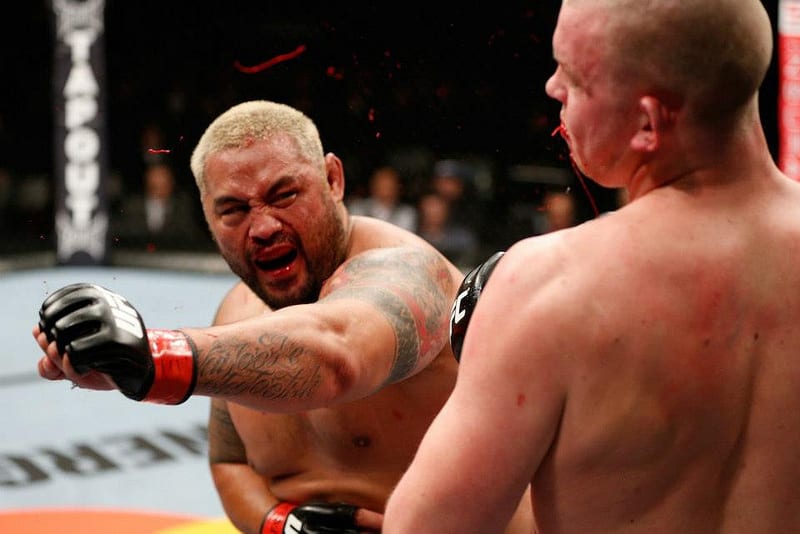 "Every time Mark Hunt fights, it's an exciting fight," Mark Hunt says of his bout this weekend against fellow heavyweight slugger Derrick Lewis — and you can't say that he's wrong.
Hunt was brought into the UFC as a bit-part of Zuffa's deal to acquire Japanese promotion PRIDE many moons ago. At the time, Hunt was in the midst of a five-fight losing streak (against a very high calibre of opponent, it must be noted) so, as the story goes, the UFC brass weren't overly-enthused with being beholden to his existing fight contract as part of acquisition to the point where they allegedly investigated buying the former K1 champion out of his deal.
Hunt refused, opting to prove himself in the cage and that is a decision that has paid dividends for the New Zealand b0rn fighter.
His first fight under the UFC banner didn't do much to change UFC management's collective mind, howver. Hunt suffered a quick submission defeat to the unheralded Sean McCorkle on his UFC debut but was awarded a second chance to state his case against Chris Tuchscherer, a fight in which Hunt uncorked what would become his trademark — the one punch walk-away knockout. Wins over Ben Rothwell, Cheick Kongo and Stefan Struve followed and the fighter who was one considered an MMA cast-off was awarded an interim heavyweight title shot against former champion Junior Dos Santos.
Hunt would ultimately lose that bout by way of a stunning spinning kick knockout but his resurgence in heavyweight MMA was complete. Since then, Hunt has recorded wins over Antonio Silva, Frank Mir, Roy Nelson and has come up short against Stipe Miocic, Alistair Overeem and Fabricio Werdum but the 43-year-old has firmly established himself as one of the premier heavyweight talents in the game.
His mettle will be tested against the powerful Derrick Lewis this weekend at UFC Fight Night 110 in Auckland, New Zealand, but Hunt says his fans should get ready for a vintage performance.
"I'm going to show the world Mark Hunt at his best," the fighter said of his bout with Lewis. "Mark Hunt can still be one of the best fighters in the world. I can finish anybody in the world."
And, with a glance at Mark Hunt's fighting resumé, who can say he's wrong?
.
Comments
comments