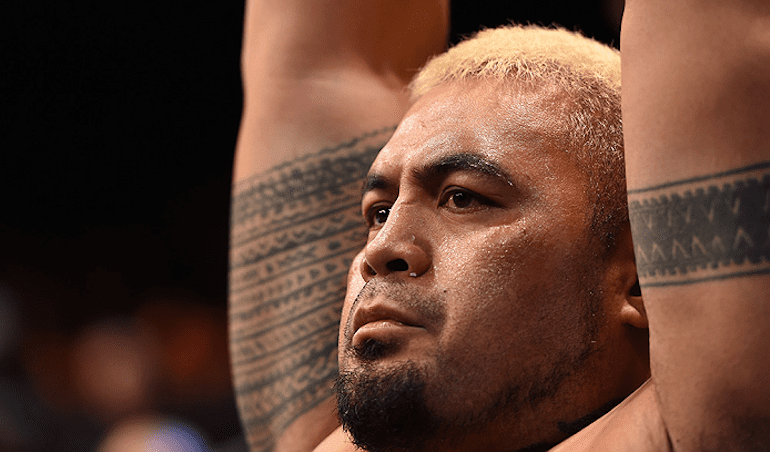 Mark Hunt has been pulled from UFC Sydney's main event next month after revealing in an interview he is beginning to lose certain faculties after a life of fighting.
The UFC heavyweight (and fan favourite) was scheduled to face Marcin Tybura on November 18, but after reading his comments UFC officials have elected to withdraw him from the contest and instead schedule Fabricio Werdum to fight. The Daily Telegraph first reported the news.
Last month, Hunt raised eyebrows in a piece for Players Voice, where he stated he was beginning to lose his memory and slur his speech after years of fighting. While Hunt said he was fine with the damage he's taken (although not so content with the number of steroid users he's fought), the words were clearly enough for the UFC to take action.
"My body is fucked but my mind is still here," Hunt said. "I've still got my senses about me and I know what's right and wrong, which is the main thing. Sometimes I don't sleep well. You can hear me starting to stutter and slur my words. My memory is not that good anymore. I'll forget something I did yesterday but I can remember the shit I did years and years ago. That's just the price I've paid – the price of being a fighter. But I've fought a lot of drug cheats and copped a lot of punishment from guys who were cheating and that's not right."
CTE and concussion related injuries are beginning to become an increasingly hot topic in the world of sport, with science only now starting to realise the longterm effects of multiple head traumas.
As of yet, there are only a few sufficient tests that can be used to examine an athlete's brain. While Hunt fans may be disappointed not to see him in action (particularly in his home region of Australia), it's impressive to see the comments being taken seriously by the promotion.
Although Hunt himself doesn't feel the same way.
Taking to his Facebook to comment on the news, Hunt blasted UFC president Dana White, and even threatened to file another lawsuit against his boss.
It's the latest point of contention between Hunt and the UFC. After facing Brock Lesnar at UFC 200 last year, Hunt was furious when Lesnar failed two separate USADA tests. Hunt ended up filing a lawsuit against Lesnar and White, which is currently still on-going.
After the initial blast on social media, Hunt returned again online to add some further statements regarding the issue, claiming he had seen doctors and been cleared to fight — although he didn't walk back his angry comments towards the UFC president.
"I spent hours the other day with the doctors I was cleared to fight," Hunt posted. "the interview I did with players voice was misquoted I don't slur my words and is a is a running joke between my wife and me my memory isn't that great but who remembers shit they dont want to not good.
"I'm disappointed that I have been withdrawn from the fight, I have passed all medicals 2 days ago. And spent 100,000 on camp. The truth is the legal case I have filed has caused me to be withdrawn. The interview has been taken out of context and want to reassure all my fans, I slur my words only when I have a drink I'm fit and healthy, and would have understood if the UFC requested a medical to ensure my safety, however this is total bullshit fuck you Dana, you've always hated me you dog."
Comments
comments