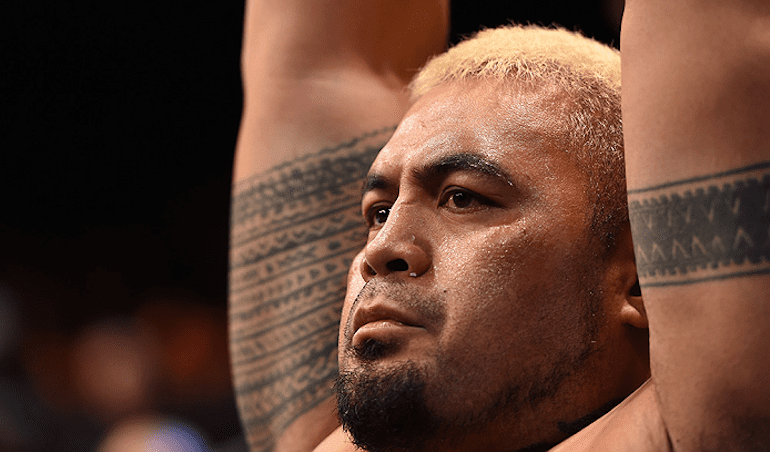 Mark Hunt wants to fight. Ever since the UFC heavyweight found out he had been pulled from his fight at UFC Sydney, he's made it clear. Hunt believes he is in good condition, he believes he is mentally fine, and he wants to fight.
For the unaware, Hunt was withdrawn from the card next month after the UFC read comments he'd made in a PlayersVoice.com article which suggested he was starting to lose his faculties. Hunt had commented that he was beginning to slur his words and forget things after a long career in fighting.
However once the UFC switched Hunt for Fabricio Werdum, Hunt was left flabbergasted, saying that the promotion's bosses had taken his words out of context in a deliberate attempt to sabotage his career. Hunt and the UFC are, after all, currently embroiled in a lawsuit.
Today, Hunt continued on his public appeal to UFC president Dana White, returning to PlayersVoice to pen a piece titled "a message to Dana White" in which he detailed some extra information about his original words, as well as asking for clarification about his UFC future.
"This is a joke. An absolutely friggin' joke," Hunt writes. "Dana White obviously has it in for me and he's looking for anything he can – no matter how small or bullshit or trivial – as an excuse to push me out of the UFC. I've been vocal about the UFC's bad record on performance-enhancing drugs and how it has impacted my career – the titles I should've won and the money it's cost me. It's a real concern and many other fighters feel the same way.
"So, what did they do about it? Did they extend the punishment for cheats? Did they ban repeat offenders for good? Did they double down on detection and prevention? Nope. They turned on the whistleblower.
"There is nothing wrong with my health. Who doesn't forget things from time-to-time? Who out there has never stuttered or slurred a word at some point? That part of the article was said with relation to a running joke between my wife and I. Ask me for some context, Dana, and I'll happily give it to you. Don't take a few sentences out of context with the rest of the article and try to bring me down with it. That's not right."
When the UFC made their original decision to pull Hunt from the card — a move made worse due to it's location in Hunt's favoured region of Australia — they did so saying that the Super Samoan would be required to take more tests. For Hunt, that's an excuse. Hunt claims he has already taken the necessary tests required, and the UFC's suggestion he fly to their base of operation in Las Vegas is unneeded.
"I have passed two health checks leading up to UFC Sydney, and one of those was with a neurosurgeon," Hunt said. "They can test me again if they like. It'll be the same result. I'm completely with it. My brain is fine. Let me get on with my career.
"Dana says he wants me to go to Vegas. Why? Is the doctor in Vegas going to know more than the doctor in Sydney? They didn't even use the results from the specialist here when they made their decision to rule me out of UFC Sydney. They just copy-pasted a few paragraphs that suited their agenda against me."
Where this saga ends, no-one yet knows. Hunt says he is out of pocket an estimated $1,000,000, which would sting no matter what stage of the career. With his already combative relationship with the promotion an issue, it's unknown if he'll be able to come to an agreement with the UFC.
For now — just like Hunt himself — observers will have to wait and see.
Comments
comments