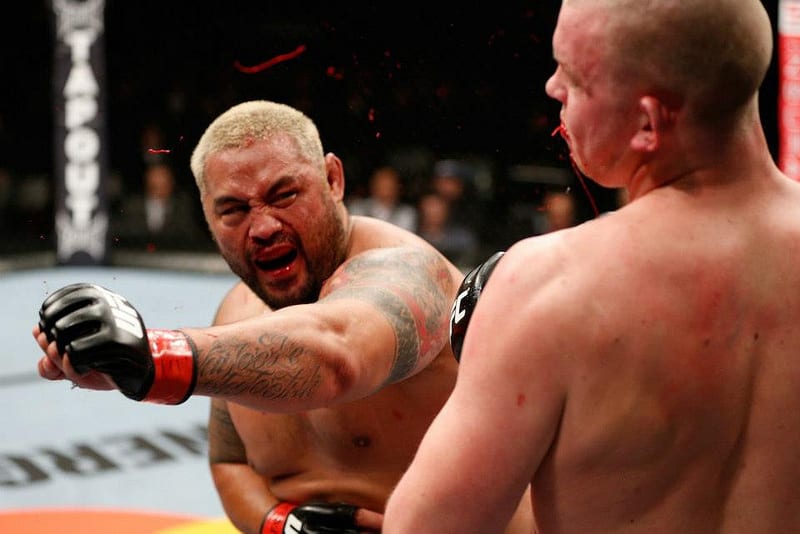 Former UFC heavyweight contender Mark Hunt, 46, has come up short in his return to the professional boxing ring more than 20 years since his last fight. 
Hunt was defeated on points by former rugby player and undefeated professional boxer Paul Gallen after six rounds of action to mark what had been a contentious fight week between the two, with Hunt throwing at least one punch at Gallen during this week's weigh-ins.
Ultimately though, it was Gallen would have the last laugh after Hunt began the stronger of the two fighters. After a cagey first round, Hunt landed his trademark right in the second — arguably the biggest strike of the fight — with a big left hand swiftly following it.
Gallen returned fire in the third to put Hunt under some pressure of his own. After landing another strong left in the fourth round, Hunt found himself up against the ropes as Gallen pushed forward. Both men landed further big strikes as the fight went on, with Gallen finishing as the busier of the two fighters.
After six rounds, Gallen was declared the winner (58-56 x2, 59-55) and improves his unbeaten record to 10-0-1, while Hunt falls to 0-2-1.
Hunt hasn't competed in mixed martial arts since a December 2018 defeat to Justin Willis, while his final win in the Octagon came in June 2017 against Derrick Lewis.
After the fight, Gallen, 39, continued his theme of seeking fights with mixed martial artists and called for a fight with former UFC champ Robert Whittaker.
"What's next? Rob Whittaker, I watched you about a year ago in an interview and you were asked if you would fight me," Gallen said. "He said 'yeah I would fight him but he wouldn't fight me' and you gave a condescending laugh.
"I'm here mate, I'm happy to meet you in here, but stop pricing yourself out of it. I've got respect for Rob, I know him reasonably well. But I'm just going to beat him.
"I'll beat him like I beat Mark, I'm going to train hard, prepare for it, have a game plan, get in there and smash him."
Comments
comments