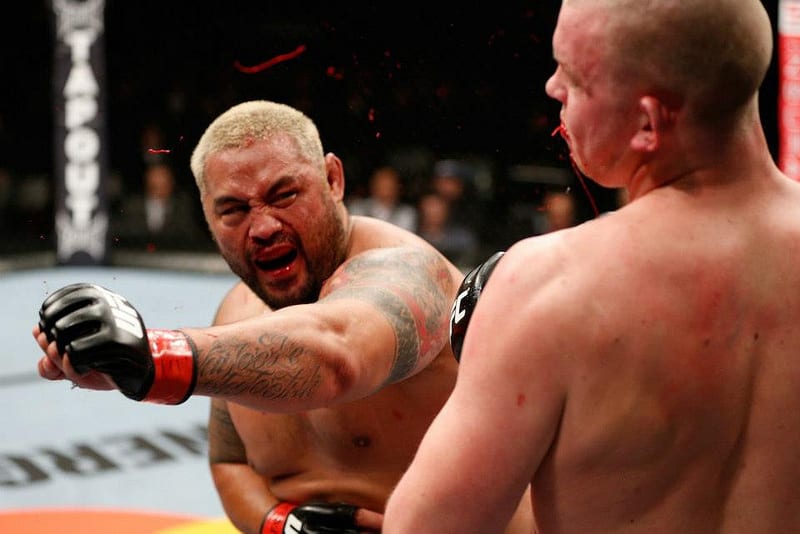 Mark Hunt has not enjoyed the best of relationships with the UFC in recent times.
Hunt threatened legal action against the organisation in the wake of his UFC 200 defeat opposite Brock Lesnar, after the WWE performer was notified of a USADA violation in the wake of the fight. Then, more recently, the UFC removed Hunt from a scheduled bout against Marcin Tybura after a interview Hunt gave to to Player's Voice in which he stated that he had noticed some potential early symptoms from brain injury, such as forgetfulness and slurred speech.
However, Hunt has since received a full medical check-up and has been fully medically cleared to return to action — and he has a good idea of who he would like that to come against.
"Hopefully I get a fight in Perth – we're waiting for Werdum to say yes, but he's such a little chicken rat," Hunt said to Sporting News (via MMAFighting). "I'd like to be on the undercard for that world title fight for Rob Whittaker. That would be awesome being a part of history right there in Perth."
Of course, this wouldn't be the first meeting between the two veteran heavyweights. Hunt and Werdum first clashed in the main event of UFC 180 for the organisation's interim heavyweight championship, a bout which Werdum won by second round knockout. With revenge for that defeat in Hunt's mind, it is intensified by the fact that it was Werdum who replaced Hunt when he was removed from the Tybura fight.
Any reluctance on Werdum's part, Hunt says, shows that Werdum isn't confident of repeating the result of their first fight.
"I don't know why Werdum doesn't want to party," Hunt continued. "We asked to do Japan, we asked to do Sydney and he said no. Then the next minute gets the fight against Tybura. He said 'no' to me, but 'yes' to Tybura, the little rat.
"He knows he'll get knocked out. That's the only reason I can think why (he won't fight again)," Hunt said. "He got me in Mexico, but I sure as hell doubt it'll go the same way the next time we fight. Three and a half weeks' notice and 21 kilograms later … I was schooling that punk-ass too. He got lucky with that knee.
"This is my last shot at getting the strap. Hopefully, they'll give me someone in the top 10 – someone above me – and all I can see is that Werdum is the only one available. I don't know what's happening with Cain [Velasquez] – he hasn't fought in forever. Alistair [Overeem] is still looking for his soul somewhere after getting upper-cutted out of the universe, and Ngannou's got the title shot.
"If I can get over Werdum, I should be next in line to fight the champ. I could be champ by next year. Now it's just about getting Werdum to say yes."
Comments
comments