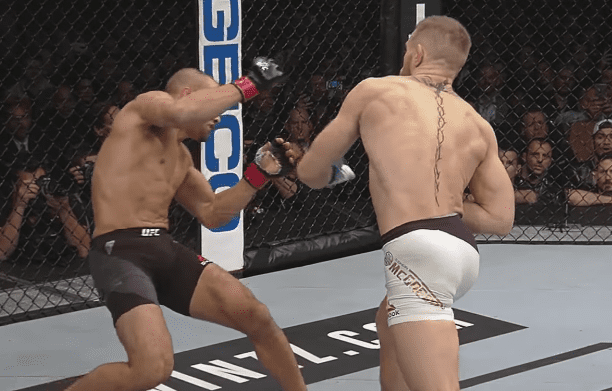 Mark Henry, coach to fighters like Eddie Alvarez and Frankie Edgar, has seen Conor McGregor's boxing skills up close and he says that the Irishman's pugilistic skills are up there with anything he's ever seen in mixed martial arts.
Henry was cageside for McGregor's historic UFC 205 victory over his charge Eddie Alvarez where the SBG fighter won his second consecutive UFC title and what he saw that night convinced Henry, one of the most experienced trainers in the game, that McGregor is something special.
With McGregor having signed his side of the deal to step into a boxing ring with Floyd Mayweather, Henry says that McGregor shouldn't end his boxing career after the so-called 'Billion Dollar Fight' takes place.
"Look, if I was Conor, I would definitely pursue the boxing, because he can make more in one fight than in 10 or 11 with the UFC," Henry said in an interview with MMAjunkie. "But, while he's doing it, they should definitely make another 155-pound belt, because it would be ridiculous if they didn't."
Henry turned some heads in the combat sports world last year when he suggested that McGregor could defeat Mayweather inside the first 15 minutes of their contest — an assertion he has since doubled down on.
"Conor is one of the best boxers I've ever seen – ever. From his precision to his power to his speed, and I think he has a shot in the first two rounds," Henry added. "Because Mayweather, like a lot of boxers do when they're sparring MMA guys, he may not think he's that good.
"He might not realize how fast Conor is, and you've got to remember that Conor is going to be taller, longer, 13 years younger, and a southpaw. Early on, I'd give him a chance of doing some damage. But after that, it's not going to be too good for him."
Comments
comments