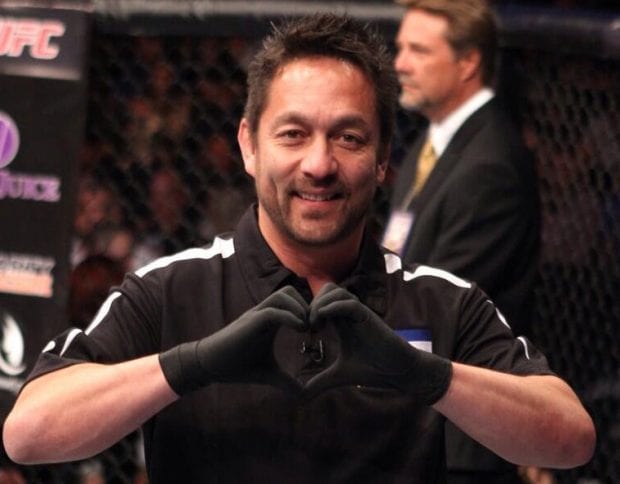 On Saturday at UFC Belem, Mario Yamasaki's refereeing was — not for the first time — called into question. During a contest between Valentina Shevchenko and UFC debutant Priscila Cachoeira, Yamasaki appeared to let Cachoeira take an unnecessary amount of punishment, with Shevchenko outlanding her 230 strikes to three.
UFC president Dana White led the chorus of disapproval, taking to Instagram after the event to praise Cachoeira for her toughness, while slamming Yamasaki for his refereeing, labelling it disgusting.
"Priscilla Cachoeira, you showed so much heart and toughness in that fight," White wrote. "I'm honored to have you fight in the UFC. Unfortunately the ref is there to protect you and Mario DID NOT do that. This isn't his first disgusting performance in the octagon. Another unfortunate thing is that i can't do anything about. Only the Brazilian commission can and i am hoping after this scary, incompetent showing he hopefully will never set foot in that Octagon again."
Now, Yamasaki has responded, and not in the manner most would think appropriate.
In a statement to MMAFighting and MMAJunkie, Yamasaki in fact stood by his refereeing during the contest, and said he felt he'd allowed Cachoeira to prove she was as tough as she did.
"During the second round, I signaled to 'Pedrita' that if she didn't move I'd stop the fight, and every time I'd stop, I told her and she moved to try to escape from the punches," the statement read. "Unfortunately, I also can't control the number of blows thrown — again, when a fighter is trying to come back she's game.
"Fighters go through times of hard effort and dedication to be there. MMA is a contact sport and no fighter likes his fight to be stopped with no chance to revert the result. In my opinion, I allowed Pedrita to be a warrior and keep fighting. I could have stopped the fight in the second crucifix or in the mount, but she moved the whole time.
"I also recognize that I should have stopped when she tapped the first time to the rear-naked choke. I only stopped a few seconds later. About other people's opinions, it's their right to say."
Comments
comments