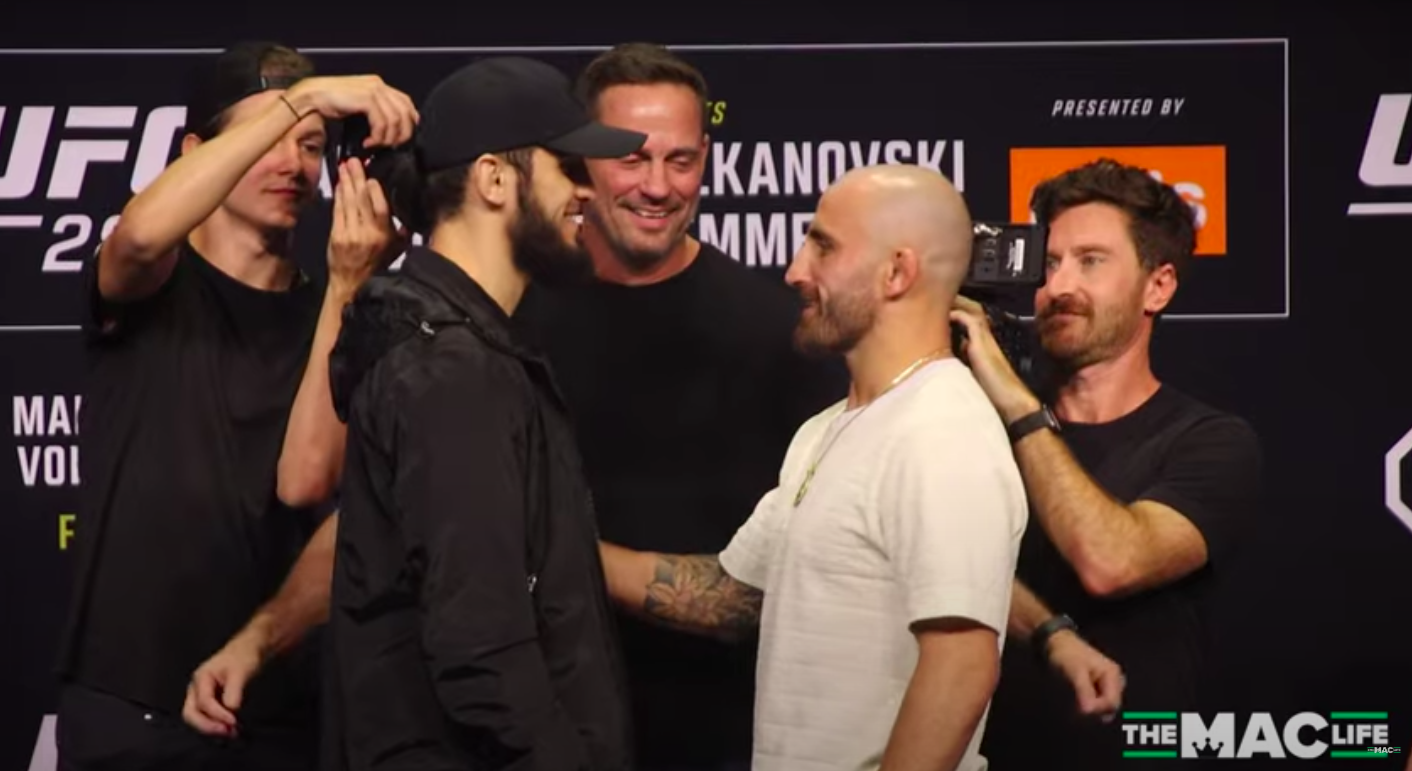 One positive of moving up in weight is that weight cuts become a little less arduous — but according to Alex Volkanovski, this isn't a luxury being enjoyed by his opponent this weekend.
The Australian UFC featherweight champion will have ten extra pounds to play with when he steps on the scales ahead of the UFC 284 main event but for Islam Makhachev, his journey to the weighing scales will be a tough one — at least according to Volkanovski.
"I've been feeling more cockiness out of him from some interviews and all that type of stuff," Volkanovski told Submission Radio of his impressions of Makhachev at the pre-fight presser and ensuring staredown, where both prodded one another to get an impression of the other's physique.
"I knew that was going to change. Right now, he's struggling with weight cuts. He's feeling a little frail. So I was expecting that was going to happen. Obviously, I expect smirks to change when we're in there, as well, when I'm facing off with him when we're actually fighting.
"He's going to be filled up [after the weigh-in]. He's going to be happy he's filled up when we're fighting. But as soon as I start moving and being that puzzle and him realising that I'm stronger than he originally thought, that smirk starts to change and that puzzled look on their face — and I always notice it.
"He has a weight cut. Obviously, he looks a little skinnier than even just a few days ago. So obviously I was always going to touch on that, just let him keep remembering that he needs to do that killer weight cut tonight. But yeah, he was like, 'How are you? All good?' I'm like, 'Don't worry, I'm strong.' And that's when he went for the grab.
"And I'm sure he felt the guns, you know what I mean? But it was all just playful. And then we had the belt, and he's gone. 'This is the real belt.' Like, 'That's a fake belt.' As if, 'You ain't the champ – this is the champ.' I've gone, 'Don't matter mate. I'm the featherweight champ, and we're going champ-champ — don't worry.' So just a friendly banter — wasn't too bad. It was good — that energy and that crowd was awesome."
Of the two champions, it is actually Volkanovski who has more experience fighting at heavier weights. Makhachev has fought two catchweight bouts in the past (160-pounds and 165-pounds), while the Australian has competed at welterweight (170-pounds) in the past — as well as weighing as high as 215-pounds during his days as a rugby league player.
How, if at all, this translates into the fight will be of keen interest to all those watching.
Comments
comments