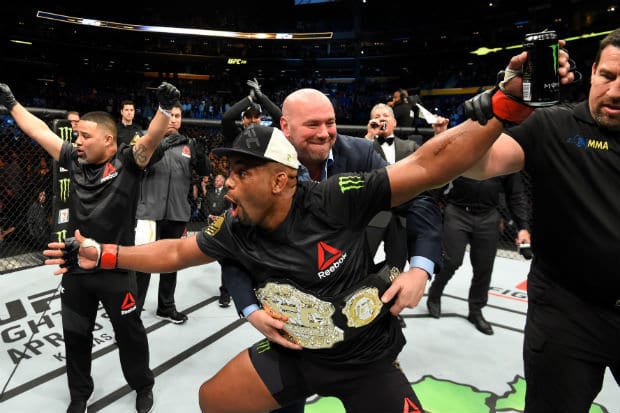 As the intrigue continues to mount ahead of Jon Jones heavyweight debut next year, one of his fiercest rivals has identified the ideal opponent for him to test his heavyweight mettle. 
Jones relinquished the UFC light heavyweight title in order to prepare for an assault on the UFC's heavyweight division but we remain no closer to learning the who that might come against but Cormier — who engaged in a years-long rivalry with Jones — says he knows just the person.
"Jones needs a heavyweight fight. I say move Blaydes to Jones. It makes all the sense in the world," Cormier said to ESPN as noted by MMA News.  "(If) Jones beats Blaydes, nobody will ever say he doesn't belong at heavyweight. (If) Blaydes beats Jones, now he has beaten the greatest of all time — in people's minds — going up to heavyweight. He'll get his title shot right away."
View this post on Instagram
Blaydes was scheduled to fight Derrick Lewis last weekend but the fight was waylaid after Blaydes recorded a positive test for the coronavirus but UFC brass say that the intend to reschedule the fight at a later date. Blaydes, however, has gone on the record in saying that he isn't interested in a fight with Jones — unless the UFC make it financially worth his while.
"No, I'm not (fighting Jones)," Blaydes said to TSN. "If I win this fight (against Lewis), I want the title shot. I'm not going to be cannon fodder to build up someone else. I've already built up myself and I feel like I've earned that. I feel like I don't have to take that fight if I don't need it. That's a title fight. I'm not fighting Jon Jones to prove that I deserve a heavyweight title shot, that's ridiculous.
"We're talking about money. I'm not going to fight Jon Jones for 200k, that's ridiculous. I think that a lot of people forget that we get paid what we get paid regardless of who the opponent is. So I don't need to fight Jon Jones to make my 200k. I can fight a bum and make 200k. If I fight Jon Jones, I want that money."
Comments
comments