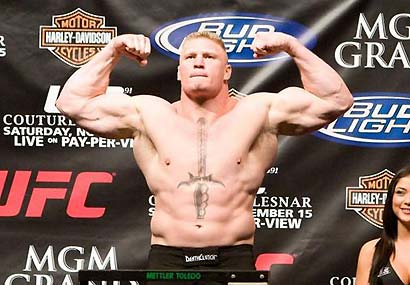 The in-cage confrontation between two-weight world champion Daniel Cormier and WWE superstar Brock Lesnar following Cormier's win against Stipe Miocic at UFC 226 has had the mixed martial arts community dissecting every possible element of it.
Does this type of heavy-handed promotional tactics have a place in the UFC, or is that better reserved for the world of fake fighting? Does Brock Lesnar deserve a title shot after having spent so many years on the fringes of the sport?
Well, according to Dominick Cruz at least, all of these points are moot as he doesn't see Lesnar making it into the cage with the heavyweight champ.
Lesnar tested positive for performance enhancing substances after a UFC 200 win against Mark Hunt and as a result is still mired in legal issues as to the potential date of his return. The latest information appears to suggest that Lesnar will be cleared to fight by January or February of next yet, which falls within Cormier's timeframe ahead of his promised March 2019 retirement from mixed martial arts.
"If [Lesnar] makes it to the fight I'd be shocked," Cruz said to San Diego's Scott & BR Show via MMA Mania.
"And I just mean that because USADA is the toughest anti-doping system there is on planet Earth, and that guy is absolutely doping. Period. No ifs, ands, or buts about it.
"And he's not been in mixed martial arts, so of course he's been doing that stuff. How they're going to get him to be clean on fight night is beyond me."
Comments
comments